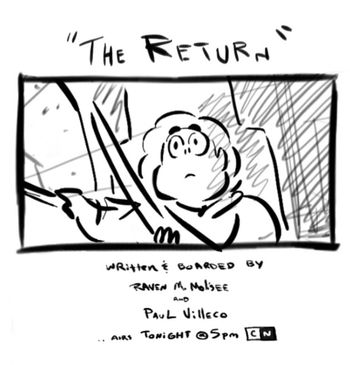 ---
Greg and Steven are talking after having gotten fry bits. Steven explains about the robonoids, and Greg admits he finds it all rather scary. He asks Steven if being a Crystal Gem isn't too much for him. Suddenly, before Steven can finish his sentence, there's the thunderous BOOM of something entering the atmosphere; every window in the city is shattered and everyone knocked off their feet. It is a giant green hand, and it is pointing directly at the Temple of the Crystal Gems.
Garnet and the Gems are as ready as they think they can be. They unearth the laser light cannons, and Steven fires them by saying their trigger phrase into a walkie talkie. But four cannon blasts are simply shrugged off by the hand. The Gems realize they may be outmatched but they still intend to fight. Steven calls Mayor Dewey, who, as a politician, is very nervous of pointing fingers. Steven tells the mayor he needs to evacuate Beach City. Dewey arranges it, and when Steven turns back from watching him address the crowd, he sees the Gems helping Greg pack the van. The Cheeseburger Backpack is amongst the things ready to go in and Steven stops in his tracks.
Steven: ... Is that ... my luggage?
Greg asks who wants to explain to Steven. Amethyst flatly refuses, saying she's no good at it. Pearl pats Amethyst comfortingly, but remains silent. Garnet steps up to explain the Gems reasoning to Steven.
Garnet: I know you think we don't trust you. And that more often than not, we treat you like a human child. But the truth is we rely on you. Your voice inspires us, binds us, reminds us why we decided to protect the planet. We need you now to do that — for them. And if anything happens, you need to be there to protect them like your mother did. It's your destiny.
Steven is sufficiently convinced and rides off with Greg in the evacuation convoy. The Gems wave good bye, with smiles on their faces — that disappear in anguish, worry and sad tears as soon as he can no longer see them; Garnet remarks this is everything they can do for him and calls the other two to get themselves together for what's to come. As they drive off, Steven says he hopes that Peridot and her reinforcements realize how nice humanity is and decide not to do anything mean. Greg is fondly reminded that this exact thing is true of Rose, but goes on to say he doubts they would care for humanity any more than they did last time, but regrets it as Steven curiously asks what he means. Greg is quick to remind Steven he wasn't there and only knows what Rose told him about it, and remarks that the Gems should have told him before but, of course, they don't want him to see them like that. Steven, now more curious, keeps asking; what don't the Gems want him to see them like!?
Greg: LIKE ALIENS, STEVEN! Aliens who invaded Earth! [...] All they do is try to make up for it, but they just can't forgive themselves. Do you understand? Look, they were doing something awful to the planet and your mother couldn't stand it anymore; she told me that's why she had to turn on her own kind. She gave up everything just to stop what they started here and drive the invading Gems off of Earth.
Steven: So she saved the world! That's good!
Greg: No such thing as a good war, kiddo. Gems were destroyed; people, too. In the end, your mother could only save a handful of her closest friends. If it weren't for her shield... man, I don't know...
Steven, on hearing that, immediately decides to go back, asking Greg to turn the van around. Greg, reminded of his lost Rose, riddled with guilt over bringing up the civil war, and terrified of losing Steven in the newest invasion, refuses. Steven points out he has the shield Greg himself mentioned was the only thing that saved the day. Steven pleads, but Greg holds firm, even while trembling and sweating with guilt. Steven finally grows angry...
Steven: Dad. Turn the car around. Please.
...and punches Greg's dashboard hard enough to trigger the air bag and blow Steven clean out of the car. He bubbles himself to safety, and Greg accepts that his son is going back to help the Gems. Steven says he'll find some way to get back — and as if on cue, Lion arrives to give him a ride home.
En route, Steven calls Connie and, in response to the curt directions of Dr. Maheswaran's voicemail, leaves a short message explaining that he and the Crystal Gems might all die. On the beach, the Gems are trying to defend Earth with all they've got. Amethyst and Pearl have formed Opal and fired a barrage of arrows — to no more effect than the laser light cannons.
The Gems sadly reflect they're in trouble as they've thrown their biggest attacks at the handship. As Garnet takes comfort in the fact that Steven's safe, he returns astride Lion; the surprise and shock separates Amethyst and Pearl from the fusion. Before they can try convincing him to leave again, the handship comes to Earth; realizing it's too late, Garnet urges Steven to stay behind the three Gems. The ship lands and its passengers disembark: Peridot, a huge, imposing Gem, and an unwilling Lapis Lazuli.
Peridot petulantly points out the Crystal Gems and Steven as the ones who keep destroying her work. The big, brawny Gem whom Peridot addresses as Jasper takes one look at them and writes them all off as not worth her time. She goes on to express disappointment that Rose Quartz isn't there, as she wanted to fight her. She turns her back on them and dismissively orders Peridot to destroy them with the ship's gun. Peridot obeys, and powers up the weapon in the handship's pointer finger. Garnet yells for Steven to run, but he refuses.
Steven: This is my home. And you are my family! And I'm ... I'm a Crystal Gem too!
He leaps in front of the trio and manifests his shield, now several times larger than normal, stopping the laser in its tracks. Jasper turns around and recognizes not only the power but the rose-thorn spiral as belonging to Rose. She seems to think Steven is Rose, having for some reason taken a small, weak form. Jasper commands Peridot to fire again, this time to separate the Gems; Amethyst and Pearl are pushed away while Jasper goes for Steven, only to have Garnet get in the way, who once more commands Steven to run. Jasper primes a weapon she calls a Gem Destabilizer and strikes Garnet with it. Lines climb the Crystal Gem leader's body splitting her into pieces like a cutting laser, before she finally vanishes in a puff of smoke, leaving the two gems on her hands to fall to the beach before the eyes of a horrified Steven.
Jasper snatches him up and announces her intention to take Steven back to Homeworld, so someone named Yellow Diamond can see him, despite Lapis' plea that their mission doesn't involve him. Jasper taunts to the Rose Quartz gem on Steven's stomach:
Jasper: I was there, you know? Back at the first war for this garbage planet. I fought your armies, I respected your tactics, but THIS [Steven]? THIS is SICK! I don't know what you're planning Rose, but look: Your base is taken, your army has fallen, and you? You. Have. FAILED!
...and headbutts him into unconsciousness. Bam. Steven sees stars from the impact and then we Smash to Black.
---
Tropes:
---