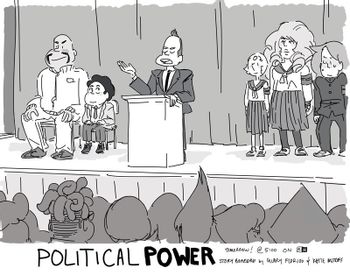 The Gems—including Steven, to their surprise—gather on the beach for Pearl to test a device she's invented which will hopefully be capable of shorting out the robonoids when Peridot comes to... "meet" them. Unfortunately, it fails to shut down the robonoid, but instead produces an EMP which
knocks out all the power in Beach City
.
The next morning, Mayor Dewey appears at the temple, having deduced that the Crystal Gems are usually behind things like this, and wants help restoring the power. Unfortunately for him, the Gems have more important things on their mind. They also refuse to help when Steven attempts to volunteer them to help clean up any mess left from the blackout, so Steven alone sets out with the mayor to try and keep the peace on the boardwalk. Dewey provides surprisingly shrewd advice about how important it is to keep people calm, but ultimately, it's Steven's inspiring speech about cooperation which calms the crowd.
Dewey's advice does allow Steven to finally realize that the Gems are purposefully keeping him in the dark to protect him. The young boy finally confronts them, saying that he wants to know the truth, no matter what. So Garnet tells it straight; Peridot is coming. They don't know when, or with who. They don't know how to fight her advanced technology. And they're afraid.
Steven acknowledges their fear and indicates that the Gems are always there for him when he's afraid; that even when it's the unknown, they will face it together. As his words make the Gems feel a bit less hopeless, the power returns as if on cue.
---
Tropes:
---