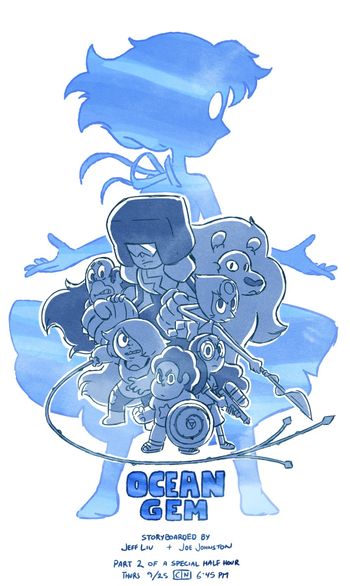 Picking up from the previous episode...
It's the morning after Lapis Lazuli left Steven and the Gems on the beach, and they're home now. Steven protests against being grounded. Pearl insists he is; Garnet clarifies it's because he disobeyed a direct order. Amethyst, serious and upset, lifts a shovel and tells him that they're going to bury him alive until he's learned his lesson.
Steven: That's not how grounding works!
Before the conversation can continue, a winded Greg bursts through the door and tells the Gems they need to come see something.
They arrive at the beach, discovering that the ocean is completely gone, leaving nothing but sand, beached vessels, and junk as far as the eye can see. Mayor Dewey is in a right tizzy, upset at the loss of vital summer revenue if people won't come to a Beach City that lacks a beach. All the people Steven has met so far in the season are gathered on the beach; Fryman worries that he'll have no customers. So does Kofi Pizza. Lars laments that the girls won't come if there's no beach. Mr. Smiley expresses concern that no one will come to Funland.
Steven declares this his fault, and packs his backpack to set out on a quest to find Lapis, and ask her to give back the ocean. Greg immediately volunteers to come along, despite usually staying behind on Gem missions. Connie says she's coming as well, and the Gems naturally insist on joining Steven's quest, ungrounding Steven in the process for stepping up to take responsibility and trying to find a solution.
Steven and Connie ride Lion. Greg drives with Garnet sitting in the shotgun seat, and Amethyst and Pearl crammed in the back. To pass the time, Greg puts in a hard rock tune he calls one of Rose's favorites. Garnet bails out of the van without a word upon hearing it and spends the rest of the ride reclining on the van's roof. In the course of conversation, Steven mentions that he never thought they'd have to fight a Gem. Pearl says they've been fighting Gems all along, and tries to explain it delicately. Amethyst blurts out the truth: that all the monsters they've faced used to be sentient Gems like Garnet, Amethyst, and Pearl; and that the Gems have been bubbling them for want of a way to restore them, but being unable to do so.
After driving all day, Steven and company finally find where the ocean has gone: it has been turned into a semi-solid pillar that reaches up into the sky. Steven tries to talk to Lapis, but she doesn't want to talk. She tells Steven he's one of them, and implies that makes him an enemy. But because of her gratitude for his help, she gives him a chance to leave.
Water Lapis Lazuli: Go away. Before I make you.
Steven attempts to convince Lapis that they're summer fun buddies, but she will not be moved. She again demands to be left alone, but Steven says they won't go until she gives back the ocean. Lapis retaliates by generating aquatic reflections of Steven, Garnet, Amethyst and Pearl.
Garnet prepares for battle, warning her partners to not get separated when Reflection Garnet punches her far across the ocean floor. The battle is joined! Pearl warns Steven and Connie to stay back. Lion steps up to guard them, then fights Reflection Steven, to no avail. The Reflection Gems, being water, are almost impossible to beat as they re-form themselves after any attack the Gems throw at them. When Lion is thrown into Greg's van, he cries out in dismay. Connie and Steven rush into the fray shouting, "Revenge!" Lapis takes them easily, encasing the children's heads in water bubbles. Greg saves them by driving his van through Reflection Steven, dissipating him.
Greg: Is this a normal magic mission for you? 'Cause I'm not sure I'm comfortable with you going on them any mo–
Lapis' Steven-construct water-blasts Greg and his van into the air. It comes down on its nose. Steven rushes to his father's side, only to discover Greg has broken his leg and is out of the fight. This is the last straw. Steven Universe steps forward and shouts to Lapis that he doesn't want to fight anymore. The constructs continue to attack, but Steven calls his shield and repeats:
Steven: I said, I don't want to fight!
The construct dissolves against the shield, and Steven's statement of intent echoes across the battlefield, destroying the other reflection constructs as well. Fight over, Steven declares that he is coming to the top of the tower to see Lapis and asks her not to drown him. He steps into the tower of water, and a hand construct lifts him to the tower's apex: the literal edge of outer space.
Lapis demands to know what Steven is doing, but he reverses the question on her, insisting that Gems should all be friends. Lapis chastises him for his naiveness over the Crystal Gems; in her eyes, they don't care about other Gems as much as they care for the Earth, a planet she never believed in. She looks sadly at the stars and indicates she was only using the ocean to stretch into space far enough to go home. Steven points out that the ocean is an important part of his home and that's why he's there to get it back. Lapis laments that if her gem weren't damaged, she could try to get home on her own. Steven tells her he has healing powers, and heals her gem. From the gem, water wings spread and Lapis' eyes are no longer reflective; she's completely healed! She thanks him and leaves flying. Seconds later, without her magic to hold it together, Lapis' ocean tower comes apart, and Steven falls back toward Earth. Connie and Lion pull a mid-air portal rescue, then Steven bubbles the Universe van and the others. They return to Beach City triumphant, aside from Greg's broken leg and totaled van.
As everyone in Beach City rejoices, Garnet and Pearl muse about what may come to Earth, now that Lapis has left to go home. Steven looks skyward.
Steven: See ya, Lapis. Wherever you are.
We Iris Out on a faraway star in the sky.
---
Tropes:
---