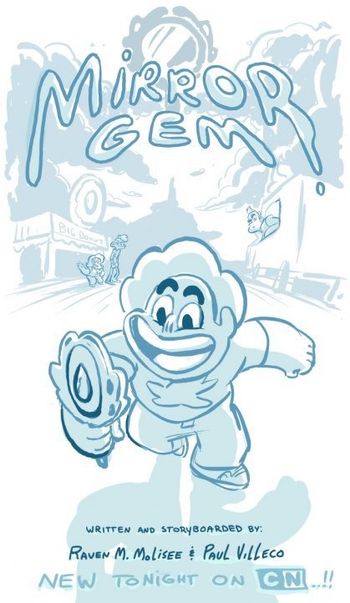 After hearing of Connie speak of school and summer vacation, Steven gets Pearl to set up a school for him since he's never been. He doesn't know what he needs to do afterward, but when he mentions wanting to learn, Pearl conjures a mirror that they found at the Galaxy Warp that can show the viewer anything from Gem history and culture. But when Pearl tries to activate it, nothing happens. She decides it's broken, and declares that's the end of school. Steven figures that even without the magic, it's still good as a mirror. He runs off with it in his hand, excited about summer vacation.
Steven cavorts backward into Beach City with the mirror and runs into Lars, who snaps at him for not watching where he's going. After a brief conversation with Lars and Sadie, Steven takes off, still walking backward. He doesn't see Mayor Dewey driving down the boardwalk toward him, but the mirror does, and warns him:
Mirror: [as Lars] Hey! Watch where you're going, you little–!
He realizes the mirror is not just what it seems, and asks it what else it can do. It repeats Steven's raspberry noises all through the mayor's speech, amusing Steven and the crowd. Steven lies on the beach to talk to the mirror... all afternoon until dusk. It shows several other reflections to tell him:
Mirror: [using various voices of Steven, Lars, and Sadie] Steven... is... a new friend!
When he excitedly tells the mirror he wants to show the Gems, it uses a reflection of Steven and tells him "Nooooo!" in no uncertain terms. Steven insists it will be okay, even as the mirror repeats "No!" over and over, finally going silent when Steven tries to tell the Gems about the mirror. It plays possum, but Steven tries to coax it into revealing itself. When the Gems realize it's talking, they react with alarm and distress because it shouldn't be able to do that. Steven tries to get the mirror to show it can talk to him, but it tells him that it only wants to interact with him. When the mirror sees the Gems approaching, it cries "No!" again, obviously upset. Garnet wants to take the mirror. Amethyst wants to bubble it. Steven tells them to back off because the mirror is screaming, and he obviously feels bad it's so upset. He attempts to slap Garnet's hand away when she reaches for the mirror. But he hits her face and knocks her glasses off, enraging her. Steven runs off with the mirror, calling back an apology for striking Garnet. The Gems then chase after him.
When he gets to the beach, Steven asks the mirror why it's so upset and freaked out. It responds by saying "Away from home. Let Me Out!" Steven, ever compassionate, asks what he must do. The mirror gives him a silhouette animated image of himself removing the cracked gem off the back. Steven does so, and the teardrop shaped gem forms into a blue person in a blue gown. She introduces herself as Lapis Lazuli and enthusiastically thanks Steven for talking to her and helping her.
The Gems arrive at the beach, ready to fight. Steven gets between the Gems and Lapis, not wanting to see the Gems fight, since he recognizes the new person as a Gem. Lapis, on the other hand, very much wants to fight — she conjures a giant arm out of the seawater and raises it to attack. She accuses Garnet, Amethyst and Pearl of knowing she was in there and not doing anything to help her, or even trying to find out who she once was. She tells Steven to come with her, and when he hesitates, she leaves him with a warning to not trust the Gems, and departs.
Pearl confirms Steven's inquiry that Lapis Lazuli was indeed another Gem. Garnet declares Steven grounded as the scene focuses on a star in the distance, and irises out.
---
Tropes:
---