Beware of spoilers up to season 5!
---
open/close all folders
Crystal Gems
General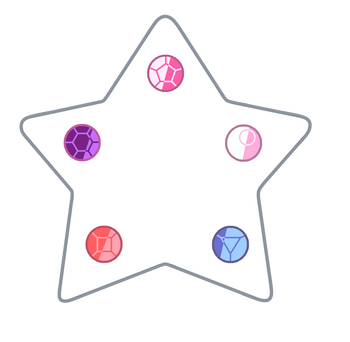 "We were amazed to find your beauty and your worth
And we will protect your kind
And we will protect your Earth
And we will protect your Earth
And we will protect you!"
—
Pearl
,
"We Are the Crystal Gems" (extended)
A group of warriors that rebelled against their former Homeworld to protect the planet Earth in the distant past, led by Steven's mother, Rose Quartz. Though there were many casualties, the Crystal Gems saved the Earth. The few survivors of the war have continued to protect the Earth from monsters and other threats through the ages.
---
Ruby and Sapphire
Two Gems deeply in love with each other. Together, they form the fusion that is Garnet.
---
Both
Ruby
A small, red Gem that is always Fused with Sapphire. Described by the creators as "someone who cares a lot", she often lets her anger and frustration get the best of her, and so is complemented well by her more reserved partner Sapphire.
---
Sapphire
Voiced by: Erica Luttrell "I can see the path of fate as it stretches toward the horizon."
A small blue Gem that is always fused with Ruby. Possessing ice powers and Future Vision, she can often be very withdrawn and emotionally distant, and so is complemented well by her more open partner Ruby.
---
Bismuth
Bismuth
Voiced by:
Uzo Aduba
("Bismuth" to "Bismuth Casual"), Miriam Hyman ("Everything's Fine" to "The Future",
Unleash The Light
)
"We are powerful! We are important! We are the CRYSTAL GEMS!"
One of the original Crystal Gems from over 5,000 years ago, and an old comrade to Garnet and Pearl.
---
Allies
Greg Universe
Greg Universe
Voiced by: Tom Scharpling

"If every pork chop were perfect, we wouldn't have hot dogs."
Greg Universe was a one man band. He didn't have much success, but seems happy enough in his simple life. Rose Quartz fell in love with him, and they had Steven together (though she had to give up her physical form for her son to be born, as only one living being can be attached to the gem at a time). While Steven lives at the temple with the Gems, Greg lives out of his van as a reminder of his prime and owns Beach City's car wash: It's A Wash. He loves his son dearly, and the two of them hang out quite often, sharing their musical talents.
For his tropes, see his page.
Lion
Lion
Voiced by:
Dee Bradley Baker
Steven:
WHY DON'T YOU TELL ME YOU CAN DO THESE THINGS YOU DO?!
Lion:
[no response because he's a lion]
A mysterious, silent, magical lion that Steven found in the desert. After following him home and helping destroy a Gem that Amethyst had forgotten to bubble, he decided to stay.
---
Pumpkin
Pumpkin
Voiced by: Zach Callison
A pumpkin dog grown by Steven using his Green Thumb spit to cheer up Lapis and Peridot after they're saddened to learn that, unlike Gems, fruits don't walk around after being grown.
---
Cat Steven
Cat Steven
A one-eyed cat adopted by Garnet when she and Steven were planning to take her litter-mates to the shelter.
---
Pink Steven (Season 5 spoilers)
Pink Steven
Voiced by: Zach Callison

"She's gone."
Steven's separated Gem half, which creates a pink Hard Light construct in his image when White Diamond tears Steven's gemstone from his body.
---
---