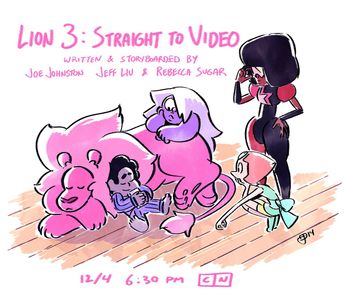 While at the Big Donut, Steven notices there are a lot of packed lunches with Sadie's name on them in the fridge. Sadie explains they're from her mom, who still insists on making lunch for her every day, despite being fully capable of feeding herself. Steven asks if he can take one for himself, and the girl agrees. Back at the temple, Steven enjoys the lunch... but wonders what his own mother would have made him. Gazing up at the portrait of Rose Quartz, he wishes once again that he knew what she's been like.
And then Lion starts to get... clingy.
Very clingy, to the point where Steven wakes up multiple times throughout the night, unable to breathe due to the massive cat lying down on top of him. It frustrates Steven to no end (and rather scares Pearl), but eventually he realizes that Lion isn't just looking for hugs. It turns out that there's a magical pocket dimension in Lion's mane, one filled with a beautiful pink field and a blossoming tree.
Venturing inside despite the lack of air, Steven finds a number of items sitting beneath the tree. There's a tattered pink flag bearing the same symbol as his shield, a sword, one of his father's "Mr. Universe" T-Shirts, a strange bubbled gem, a mysterious chest... and a VHS tape with a label that says, "For Steven".
Remembering that the Big Donut has a VHS player, he rushes off, arriving just as Lars and Sadie begin to open the shop for work. Upon learning what this is all about, Sadie sets up the TV in the back room, and she and Steven watch the film. It's Rose, capturing a peaceful and happy day at the beach with Greg, as they enjoy the animal life and simply goof around. Finally, however, the Gem begins to address Steven specifically;
Rose: Isn't it remarkable, Steven? This world is full of so many possibilities. Each living thing has an entirely unique experience; the sights they see, the sounds they hear, the lives they live, are so complicated and so - simple. I can't wait for you to join them.
Rose: Steven... we can't both exist. I'm going to become half of you. And I need you to know... every moment you love being yourself, that's me, loving you and loving being you! Because you're going to be something extraordinary. You're going to be a human being.
Greg: Hey Rose!
Rose: Take care of them, Steven.
The video ends with Rose and Greg sharing a tender kiss while he caresses Rose's pregnant belly. Lars walks in on Steven and Sadie with tears in their eyes, then slowly backs out of the room. Steven hugs Lion for giving him such a wonderful gift while Sadie calls her mom, to ask her to keep making those packed lunches after all.
---
Tropes:
---