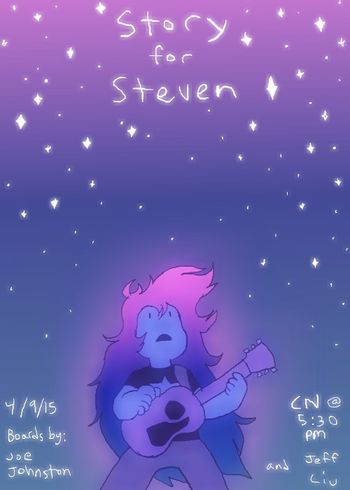 It's a rainy evening in Beach City. In the Universe van, Greg and Steven are noodling around musically. Greg cheerfully observes that although he's losing his hair, he isn't losing his musical skill.
As they put down their instruments, an old photo falls out of Greg's equipment. Steven asks who it is, and Greg, still cheerful, explains that's one of the last pictures he took with his manager, Marty. Still smiling reminiscently, Greg says, "He's dead to me," but goes on to say that in a roundabout way, he has Marty to thank for how Greg met Steven's mother Rose.
Steven asks to hear the story. Greg insists he's already told Steven the story a million times. Steven counters that he's never heard a version with Marty in it. So Greg gives in and retells the story.
Flashback: Young Greg Universe is college-aged, and is performing his song, "Comet". But when the song ends, it turns out that the audience is empty. Dozens of folding chairs are spread out before the makeshift stage, but no one is in them. However, in the back, there's a beautiful, tall, pink-haired woman, applauding. Greg gives his thank you spiel and plugs the merch table, where Marty is — supposed to be waiting to sell merch, but isn't. Greg goes to man the table, and the beautiful pink-haired woman greets him there. They talk briefly about his album, Space Train to the Cosmos — Greg, poetically, but Rose taking his words in a more literal sense. He gives her a free CD, and is about to give her a T-shirt. Her size isn't on the table, though, so Greg asks her to wait long enough for him to go get one.
He goes to the back of his van, only for the doors to burst open, revealing Marty and his current squeeze, a young woman he introduces as Vidalia. Marty scolds Greg for giving away free merch and reminds Greg that he's diminishing his 75% by doing so. But once they get on the road, they'll make more money.
Greg wanders his way to the beach, with the temple on the hill, but it's all fenced off with a sign that says "KEEP OFF THE BEACH ... Please".
He sees a purple owl sitting on the fence while he pensively considers what to do next. To his surprise, the owl talks — in the voice the viewers would know as Amethyst. Greg, undaunted, asks if she knows where to find the tall pink-haired woman. The Amethyst owl replies "I could tell you but then I'd have to kill you," and flies off, laughing. Undaunted and un-freaked by the sight of a talking owl, he follows her to the cave.
A younger Amethyst and Pearl are there, the former explaining she met an interesting human. Greg introduces himself, to Pearl's surprise. Garnet arrives shortly thereafter and demands that Greg state his purpose, which Greg explains is to see Rose. She decides the best way to get rid of the human is to throw him over the fence. As Greg protests, Rose arrives. Garnet, embarrassed at being caught, drops him. Rose helps Greg up and as they discuss why he's come, he realizes that Marty's probably done with his party and is ready to leave. He runs off, but not before calling poetic parting words to Rose.
Greg: I hope the stars will align for us to meet again!
As Marty drives the van out of Beach City, Greg's mind is still on the town they left behind, and the woman who so caught his attention. Marty mistakes him for waxing poetic and suggests he save it for performing. Greg becomes enraged at his manager's cavalier and dehumanizing attitude toward women when Greg describes the women we know as the Crystal Gems. When Marty turns to tell Greg that Marty decides what's important because he's the manager and Greg just a spaced-out kid, and nearly drives them into a head-on collision with a semi-truck in doing so, Greg reaches his limit. He kicks Marty out of the van, then turns around and puts the pedal to the metal back to Beach City, driving straight through the fence and onto the beach.
He returns to the temple, knocks on the door, and announces to no one that he can play for Rose now. He begins to sing, plaintively, hopefully:
♫ Do you believe in destiny?
close your eyes and leave the rest to me...
Do you believe in fantasy?
I have to when it's right in front of me ♫
and Rose, wearing the Mr. Universe T-shirt he brought her, emerges. She asks him politely to go away, saying he's very cute, and she'd love to play with him, but his life is short and she wouldn't want to get in between him and what he wants.
Greg's immediate and serious reply stuns her into starry-eyed silence:
Well that's gonna be a problem... you're everything I want!
As the scene returns to the present, Greg and Steven agree that Marty was the worst, but Greg says that Marty made it easy for him to stay...and puts the photo up next to his other photos.
---
Tropes:
---