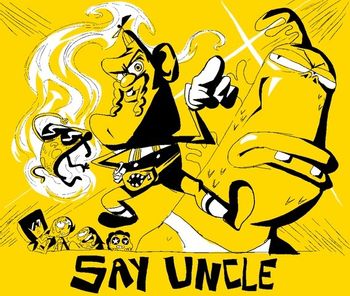 Original airdate: April 2nd, 2015note Man, just one day off...
Production code: 1031-056
---
"Don't worry, bro, none of this is canon. But THIS [cannon] is!"
— Uncle Grandpa
In this unusually silly episode, Uncle Grandpa comes to town to aid Steven in unlocking the power of his mother's gem. Unfortunately, the Crystal Gems don't take kindly to this Reality Warper whose idea of "help" appears to be aiming all manner of guns at the boy, and decide he must be stopped. Hilarity Ensues.
---
Tropes:
---