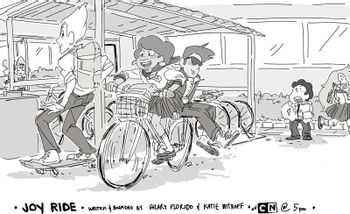 On the beach, The Crystal Gems and Steven are digging up the broken fragments of the ship that crashed there after the big fight with Jasper and Peridot. The Gems are doing the heavy lifting, picking up the big pieces. Steven is still doing his part, though, digging up the little pieces with his shovel. The little guy is putting his all into it and working up a sweat as he goes. When he protests, asking if they really have to clean up every last piece of the ship, Garnet and Pearl confirm it must be done for the safety of Beach City...which also reminds them that Peridot is still out there somewhere, and there are many after-effects of the invasion left for them to deal with. Steven goes back to diligently working, thinking over the events they experienced......only to come out of his reverie to see Buck Dewey, Sour Cream, and Jenny Pizza. They want to go have some fun and want Steven to come along. Steven responsibly declines because he really can't bail on his work cleaning up the beach. They are bummed by his refusal but go without him, promising to see him later.
Hours and hours later, the sun has set, and Steven is in his room bemoaning how tired he is and how his calluses have calluses. A thump makes him look up, to discover a slice of pizza has hit his window. For a moment, Steven is bewildered by the apparent rain of pizza, before he realizes that Buck Dewey is throwing pizza at the window to get his attention. When he comes down to ask why Buck is making it pizza rain, Buck makes a reference Steven doesn't recognize, but once again invite him along with them — starting with delivering the remains of the pizza to Mr. Smiley.
On the road in Jenny's car, the teens describe the troubles in their lives. Sour Cream doesn't want to wear a raincoat or be a fisherman like his gibberish-speaking stepdad. Buck Dewey has a conundrum about being the mayor's son. Jenny doesn't want to be the good twin like Kiki, she wants to be the evil one. But all their irritations pale in comparison to Steven describing that the Gems are alien rebels, hated and hunted by their own people; that at least one of the Homeworld Gems seems to believe Steven is his own mother which may actually be true; and that Steven can't talk to Garnet, Amethyst and Pearl about his feelings because he believes they blame him for his mother's absence.
The Cool Kids acknowkedge how serious Steven's life is and agree he needs a break. A green glow off the road catches Sour Cream's attention, and Jenny drives into the field to see what it is. It turns out to be a glowing crater containing Peridot's robonoid-esque escape pod, crashed and empty.
Steven recognizes it for what it is and responsibly decides that he immediately needs to notify the Gems they've found Peridot's escape pod, and warns the cool kids away from it because it could be dangerous. Sour Cream begins throwing rocks at it, offended that it is an invading ship. Steven tries to convince them it's dangerous, but all they do is continue to throw rocks at it. Jenny wants to take selfies with it but Buck declines because he wants to live the moment for what it is — and also the pod makes the lighting weird. Steven tries to stay firm, but Jenny convinces him to take selfies because she has stickers.
Steven tries to insist he has to tell the Gems, but Jenny, Buck and Sour Cream all encourage Steven to have a little fun with it before doing so. Steven gets into the pod and quickly learns how to make it toddle around on its little legs. He again realizes that he should take it back to the temple, but the cool kids remind him of how much pressure he's been under. Before long he's giving them rides and racing Jenny in her car. Egged on by the cool kids, Steven tries to see what else he can do with the little craft — but he triggers some sort of battle programming. The craft's shield's go up, the cockpit fills with liquid, and it sends up a geometric flare signal that lights up the night sky. The pod runs wild, firing indiscriminately and threatening Jenny, Buck and Sour Cream.
The Gems arrive on scene fairly quickly after the flare, and immediately are ready for battle. Jenny tries to warn them off, but they are having none of it; they ignore the humans and begin attacking, convinced that Peridot is inside and probably weak from the landing since the craft is damaged. Steven tries to call out to them to let them know he's inside, but they can't hear him. Pearl throws her spear into the craft, and Garnet launches into action, soliloquizing all the while about how dare Peridot come here and think she can cause trouble. Before she is ready to throw the coup de grace, though, Jenny Pizza gets between her power fist and the craft, stopping Garnet short.
Jenny: Steven's in there!
The Gems, horrified, stop cold. Garnet cracks the pod open like an egg and releases Steven. They all begin scolding him for playing with the pod instead of coming right to them and letting them deal with it. The cool kids, however, step right up and defend Steven, pointing out that he wanted to tell the Gems at once, but they talked him into having fun instead. They go on to point out to the Gems that while they're sure what he's doing with the Gems is important, Steven has been through a whole lot for a little kid his age, and he needs a break.
The Crystal Gems consider this for a little bit.
Amethyst: He did just break us out of space jail.
It's not long before Garnet comes to a decision.
Garnet: Steven...you're ungrounded from TV.
The Crystal Gems then cheerfully join in with the cool kids and Steven, having fun with the remains of the crashed pod.
---
Tropes:
---