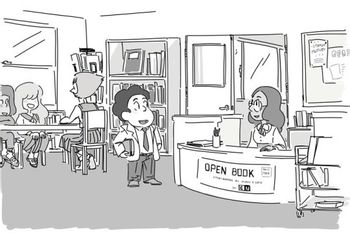 Steven finally finishes the last book of the series Connie got him reading after he was grounded from television.
Connie asks what he thought of the ending. Sensing Connie has intense feelings, Steven gives a very generic answer. Connie describes how she was so upset that it seemed to be leading up to subverting these tropes about witches and authority, only to suddenly turn the falcon guardian human so he can marry Lisa, the heroine.
Connie:... They described the wedding cake for fifty pages!
When Steven says he wishes he could give Connie a new ending, the Temple door to Rose's room opens, and Steven recalls that he can ask his mother's room to make anything for him. When he asks Connie what she wants, she immediately asks for the Infinity Fair from the books, but Steven, remembering his first experience with the room, suggests keeping it simple. So Steven asks to be made into the falcon Archemicarus from the books. When Connie asks for the room to make her Lisa, nothing happens. They realize the room only answers what Steven wants. They think for a minute and come up with the idea for a Costume shop that will allow Connie to dress however she wants.While Connie is inside dressing, Connie and Steven discuss colors of outfits, and other things from the history of the story. In his excitement, Steven tries to rush Connie, but she tells him to wait.
Steven: I want to see you!
In response, out comes Connie in an outfit composite of various elements of the main character from the series, all wrapped with a hooded pink cloak.
The two of them start from where the book ended: Archemicarus and Lisa about to get married. Steven acknowledges that's not what Connie wanted so asks her what she would prefer to do. She turns the question back on him asking what he wants to do. Steven says they decided to start a business selling turkey legs. They end up taking a leg to feed the giant wind lizard. Steven asks again what Connie wants to do next. She turns the question on him again, so he tries to recall what Connie said about all the anti-authoritarian stuff she wanted to see. He conjures a bunch of evil knights who indicate their business is illegal, and they begin attacking the pair. As they duck behind the turkey leg cart, Steven asks Connie again what she wants, and she asks him, again, what he wants.
Steven says he doesn't want Connie to do what he wants, and as he ruminates on how unlike herself she's acting, the costumed Connie in front of him reacts with stammers, before finally choking up altogether. Steven flashes back to the tiny pink whale, the costume shop, and his voiced desire to see Connie in costume, and realizes what he's done. The Connie he's been pretending with is not the real thing, but a simulacrum based on his not thinking before he speaks.
He states that he's done playing and commands all the pretend stuff to go away. But the faux-Connie doesn't stay vanished. When Steven demands to know why she isn't gone, she tells him that he told her not to do what he wants her to do.
Steven, alarmed, tries to escape on the wind lizard from the books, but faux-Connie grabs its tail. Steven repeats he doesn't want her, but the real Connie; his pleas fall on deaf ears, though, and she knocks him off the lizard. The two of them crash to the ground before the real Connie, who is wearing the same costume but in shades of blue-green. Faux-Connie's outfit changes to Lisa's wedding outfit from the book!
Faux-Connie: I know you like her! And I know you want her to like you!
Steven cries for help and Connie races forward, fearlessly slicing her double in half. Faux-Connie looks stunned and disappears, only to reappear again, straddling Steven's back and grabbing him by his hair and demanding that he tell the truth.
Steven finally admits he likes the ending of the book. He liked that they found a spell to make Archemicarus human, he liked their relationship, and he loved every page of the description of the wedding cake and wanted to draw a picture of it.
This satisfies Faux-Connie and she vanishes without further conflict.
Steven admits he was afraid Connie would think less of him if he was truthful with her because she cared so much about the book. Connie explains that the series is only books, but she cares about Steven much more.
Connie: Of course you liked the wedding. You're Steven; you love schmaltz!
As they leave the room, they each discuss their own perspective on the books, and Connie accepts that Steven's read is just as valid. Upstairs, in his room, there's a doodle of Lisa and Archemicarus in their wedding clothes before the Iris Out.
---
Tropes:
---