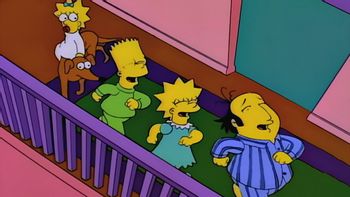 Original air date: 3/5/1995
Production code: 2F31 note Special production code. Not actually produced after the rest of the 2F production line.
In this crossover with The Critic note which was about to begin its second and final season after a Channel Hop to Fox — indeed, the first episode of said season began immediately after this episode's original broadcast (and the only episode that doesn't have Matt Groening's name in the executive producer credits), Marge suggests that Springfield hosts a film festival to combat news that the town is the most anti-intellectual city in the United States (so anti-intellectual, in fact, that they burn people at the stake for believing in science) and Jay Sherman flies down to Springfield to be one of the judges — and Homer, out of jealousy, urges Marge to be on the film jury as well. Meanwhile, Mr. Burns uses the film festival as an opportunity to boost his massive ego.
This is one of two episodes in Season 6 that was produced by the writing team of The Critic instead of the usual production crew, the other being "'Round Springfield".
---
This episode contains examples of:
---