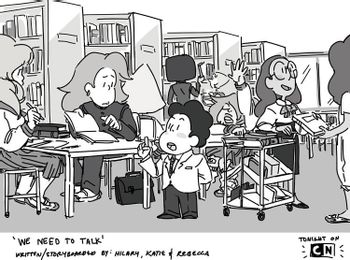 Outside It's A Wash, Steven and Connie are helping Greg sort through some of his old vinyl, such as Orange Magic Orchestra. Connie remarks she's never heard any of his bands because her family only plays classical music and movie soundtracks. Greg puts one of the albums on his turntable so she can hear. He instantly is in the zone, air-guitaring to the music. Steven also begins dancing, and soon reaches for Connie's hand.
Steven and Connie take hands, and begin dancing. Blushing and laughing, they circle, and in a burst of light, suddenly the two are one — they've fused once again into Stevonnie! The fusion looks a little startled, as they hadn't expected that. Greg's exclamation of surprise jars them out of the fusion.
Greg: You two can fuse?!
Connie begs Greg not to tell her parents; they don't know she's doing magic stuff with Steven and wouldn't understand. Greg's response is chill. He tells her he's probably the only human on earth who would understand. When Connie asks what he knows about fusion, Steven echoes the sentiment, then settles in with Connie for a story.
Greg pops a video into his TVCR and presses play. Greg is on guitar. Amethyst is on drums. Garnet on keytar, and Rose has the mic. She and Greg sing a duet with Pearl sulking back behind the speakers and watching with narrowed eyes. As the song gets to the bridge, Pearl comes onto the stage and whispers something to Rose. The two dance together and fuse into a gem who dances her way through the bridge while an amazed Greg can only stare, barely remembering to keep playing. The song ends, and the two Gems part. Pearl is the one with the mic, and she drops it, giving Greg a lingering, significant, smug look.
Greg: What was that?!
Rose explains that was Rainbow Quartz, the fusion of Rose and Pearl, done because Pearl thought it would add something to the video. Rose departs, having something to do. Garnet departs too, and little Amethyst is engrossed in opening the "payment" for playing the drums — pop rock candy. Greg is left behind, curious about what fusion is. Pearl smugly says that Greg is only a brief distraction for Rose, that will soon be over. When Greg demands to know what makes Pearl so sure, she says it's because he can't fuse, because he's not a Gem. Greg asks if humans can fuse with Gems and Pearl smugly tells him it's not possible. He asks if it's never been tried, and she can't answer with any certainty. Greg declares that he will be the first.
Later, on the beach, Greg has replayed the video and started trying to replicate Pearl's moves, ineffectively. Amethyst and Garnet arrive, the former excited about seeing themselves in the video. Garnet distracts Amethyst with a stick and tells Greg she believes he can fuse. But that in order to succeed, he can't dance like Pearl. He has to dance like himself.
Taking this advice to heart, Greg sets up a dance floor on the beach, and puts on some dance music for them to slow dance together. But to his great dismay, they dip and have one heck of a kiss, but no fusion occurs. Rose is amused that he was attempting it and giggles. Greg is frustrated and upset, and demands she talk to him like a real person. Rose stops laughing.
Rose Quartz: I'm...not...a real person.
Greg is upset and freaked out by the realization that he's in love with a genuine alien. Rose is shaken by his laughter and tears. They have an awkward conversation about how things are supposed to work with them. Rose has an idea that it's just all supposed to be fun. Greg tells her that being in love with her is torture. Stricken, she apologizes. Greg asks how they're going to make it all work, and that they might possibly have rushed into things without knowing much about each other. Since neither of them is sure what to do, they begin by asking and answering questions. Ultimately, they come to the conclusion that being confused by it all is the one thing they have in common, and break into a joyful, relieved dance.
Behind the rocks a short distance away, Pearl expresses bewilderment that they're dancing despite the fusion not working. Garnet, however, says that it did. Amethyst comments that she thinks Greg is her favorite of Rose's dalliances. Pearl says, sadly, that she thinks Greg is Rose's favorite as well. As the flashback ends, Greg offers to Connie that anytime she needs to come talk to him about human being stuff in relation to Gem stuff, she can. As the two of them high five over being human beings, Steven echoes them, his hand clutching at the gem in his belly, the only thing he has to connect him to his mother besides Greg's memories.
---
Tropes:
---