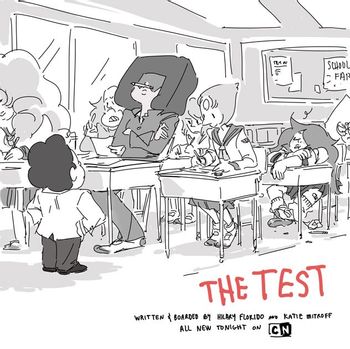 It's a rainy evening in Beach City. Steven and the Gems are playing "Citchen Calamity", one of the many board games in the Universe collection. Steven wins, and as he's going through the closet to find another game for them to play, he runs across the idol that he was supposed to have brought with him during their mission to the Lunar Sea Spire. Steven recalls having forgotten it, and that the Lunar Sea Spire collapsed into the sea, leaving them to have to paddle home for hours. Steven becomes sad, and apologizes for failing the mission. Seeing him upset, Pearl and the other Gems seek to comfort him, but Pearl lets slip that the Lunar Sea Spire mission was a test.
Steven is all the more upset when he finds out the mission was a test, because in his eyes, he failed it! Pearl tries to comfort him some more but only makes it worse by saying that his test should have been much easier than it was, but the Spire was in much worse condition than the Gems had expected. It takes Garnet stepping in and reassuring Steven that they did not plot behind his back, but saw the opportunity and brought him along to see how he did. Steven is even more upset by the idea that the test was supposed to be super easy and he still failed. He insistently asks for another test, and the Gems, realizing he won't let it be, oblige. They put together a dungeon for him, each room designed by one of them. Once Steven makes it through, the Crystal Gems will be waiting at the other end for him. They wish him luck, all light up their gems and open the way for him.
The first room is Amethyst's room. It's a temple designed to look like her open mouth and the road Steven walks is her tongue. A giant boulder rolls down after him and chases him to where the road ends abruptly in a cliff, leaving a wide gap between where he stands and the door out of the chamber! Steven must grab a vine that resembles her whip and swing to safety. He does it and, proud of himself, continues onward.
The second room is a tiled floor with a door set high in the wall at the other end. Steven wonders how he'll get to it when the room provides a hint: it lights up different floor tiles in order; following that order results in a tune.
Steven: Oh. A music puzzle. This must be Pearl's room. Only she would make me think.
Steven dance-hop-walks across the room following the pattern of the musical lighted tiles. When the song is complete, the rest of the floor turns into stairs leading directly up to the second door. Steven is pleased with himself for figuring it out and declares the test "easy". But then axes begin swinging at him as he climbs the stairs. Not so easy!
The last door is the one to Garnet's room. It is so hot that Steven's flip-flops sizzle against the floor! He has to carefully time his steps/jumps as there are gaps in the floor through which flames shoot up. Then there's a spiky piledriver coming down from the ceiling! Steven panics and freezes, then realizes it stopped well above him. After a moment or two, he becomes suspicious, and walks back. The piledriver senses his presence and stops above him if any part of him is in its path! Astonished, he jumps back. The flames that shoot up from the floor detour around him. He goes backward to Pearl's room. The axes pass through him. No matter what pattern or which tiles he touches or steps on, the song plays and the stairs generate. He returns to Amethyst's room, where he discovers that not only will the boulder chasing him slow down so as not to hit him, but the gap between the cliff and the final door isn't even a gap. There's an invisible structure there so Steven can't fall. The Gems have rigged every aspect of the test! There is literally no way for Steven to fail. The Gems have given Steven another super-easy test after he said how upset he was at having failed a super easy test!
Furious, Steven walks back up to the top of the dungeon, and climbs over Amethyst's boulder to the top of the structure, which is suspended in mid-air. Steven sees the obstacles and walks past them without harm.
Steven: I... can't believe it. Augh! "It won't be easy." "Good luck, You're gonna need it." How am I supposed to prove myself if you guys keep —
But at the other end, as they promised, the Gems are standing on a floating platform waiting for him with a banner that says CONGRATULATIONS STEVEN. From where he stands, Steven can hear the Gems talking to each other. They are a little worried that Steven hasn't finished the three dungeon tests yet. Pearl is afraid he's hurt himself. Garnet says there's no way because they set it up to be unfailable. Amethyst asks what the point is. Pearl says they have to bolster his confidence because although Steven has been able to bubble and summon a shield twice, he's lost his healing abilities and they want to build up his confidence. They go on to say they're not sure if they're doing a good job training Steven properly because he's the first of his kind: half gem, half-human. Amethyst worries if they're going the right way without Rose to guide them.
Amethyst: We're bad at this.
Steven realizes that the Gems aren't entirely confident that they're doing such a good job by him as teachers.
Steven returns to the rooms, walks determinedly through them, and meets up with the Gems, who cheer him for having succeeded, until they see the barely contained expression he's wearing. Their cheers slow to an Awkward Silence, into which Steven speaks:
I can't believe you guys!
But then he goes on to say the test was insane, and exciting, and thanks them for making such a great test for him. The Gems are pleased he found their test exciting, and obviously feel a little better themselves that he got through it without suspecting what they did. They each drop down to hug him.
Pearl: I'm so proud of you.
Amethyst: Yeah! You da man!
Garnet: I knew you could do it.
Steven realizes the Gems are genuinely proud of him, and that their sincere reaction was worth not losing his temper at them for their misguided good intentions. He closes his eyes and tenderly basks in the hug.
We Iris Out over Steven and the gems hugging.
---
Tropes:
---