open/close all folders
Touga Kiryuu
Touga Kiryuu
Voiced by: Takehito Koyasu (Japanese), Crispin Freeman (English), Alfredo Gabriel Basurto (Latin American Spanish)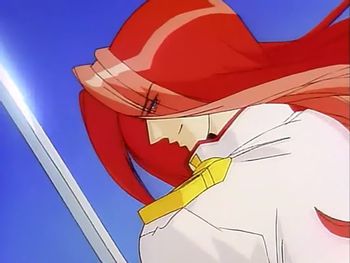 The president of the Student Council and a notorious playboy. Touga Kiryuu leads each Student Council meeting with his signature speech, a permutation of a quote from the book
Demian
.
---
Evil Redhead: He has vibrant scarlet hair. He gets his friend Saionji expelled from school and burns the exchange diary right after Saionji entrusted it to him. Later, he tricks his sister Nanami into thinking that they were Not Blood Siblings and that he never loved her, even though they were just merely adopted by into the same family and Nanami was too young to be able to remember.
False Friend: Towards Saionji even though the former resents and also trusts him.

Later averted at the end of the anime after Utena's disappearance when they reconcile between them and become true friends.

Freudian Excuse: According to Enokido, in both the series and The Movie, his adoptive father raped him after his birth parents sold him and his sister to the Kiryuu family. While it does not excuse the way he is, it does explain his promiscuous behavior, a common warning sign in children who have been sexually abused.
Smug Snake: He is very handsome, charming, and manipulative — but ultimately, he's a horrendous Jerkass even to his sister, and he can't hold a candle to

Akio

.
Juri Arisugawa
Juri Arisugawa
An incredibly skilled duelist with high levels of political power over the students and teachers, and the captain of the fencing team. Despite her confidence, she is still a soft and vulnerable person on the inside.
---
Kyouichi Saionji
Kyouichi Saionji
Voiced by: Takeshi Kusao (Japanese), Jack Taylor (English), Yamil Atala (Latin American Spanish)
The vice president of the Student Council, captain of the kendo team and the betrothed to Anthy Himemiya at the very beginning of the show. Saionji is an abusive and immature person, frequently
slapping Anthy
when he feels he has been betrayed. Most people don't take him as seriously as he likes to think they do.
---
Miki Kaoru
Miki Kaoru
Voiced by: Aya Hisakawa (Japanese), Jimmy Zoppi (English), Carlos Hugo Hurtado (Latin American Spanish)
A piano player and genius, and genuinely more friendly to Utena than the other members of the Student Council. He's constantly timing things with his stopwatch for unknown reasons.
---
Nanami Kiryuu
Nanami Kiryuu
Voiced by: Yuri Shiratori (Japanese), Leah Applebaum (English), Christine Byrd (Latin American Spanish)
A slightly late addition to the council, Nanami is the younger sister of Touga Kiryuu. Generally an immature person with a grudge against Anthy. Nanami frequently is the subject of the show's sillier episodes.
---
Vocal Evolution: For the first two episodes Leah Applebaum uses a more mild voice for Nanami instead of the No Indoor Voice she has for the rest of the series. It's especially noticeable in episode 11 when they revisit the first episode and Nanami sounds completely different.
We Named the Monkey "Jack": Anthy named a cow and a hen after Nanami. This is obviously not meant to be flattering.
Yandere: She's so obsessed with Touga that as a child she drowned his pet kitten out of jealousy.
---