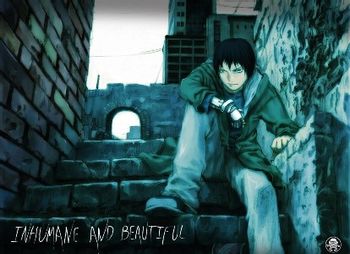 "If there's anything you want, anything at all... come to me. I'll be your guardian angel."
— Opening Themenote
In the not-too-distant future, deep underground, descendants of a banished generation vie for control of the crumbling city of Lux. Ichise, an orphan turned prize fighter, loses an arm and a leg to satisfy an enraged promoter. On the brink of death, he is taken in by a young female doctor and used as a guinea pig for the next evolution of texhnolyze.
Having adjusted to his new limbs, Ichise is eventually taken under the wing of Onishi, the powerful but distrusted leader of Organo, a criminal organization with some hold over the people of Lux. Meanwhile, four different factions begin to draw battlelines for territorial control of the city: the aforementioned Organo; the Union, a fiercely anti-texhnolyze faction; the Racan, a group of rebellious texhnolyzed youths; and the Class, a mysterious group of privileged beings who lurk behind the city. As Ichise is unwillingly drawn deeper into an uncontrollable war, he learns of his possible future from the prophet girl Ran, who guides him from the shadows in his darkest times. When society comes crashing down, Ichise must uncover the truth about Lux and fight for his survival.
Directed by Hiroshi Hamasaki, written by Chiaki Konaka with character design by Yoshitoshi Abenote The latter two known for working onSerial Experiments Lain, and animated by Madhouse, Texhnolyze is often considered to be one of the strangest and darkest anime ever made.
---
Texhnolyze provides examples of:
---