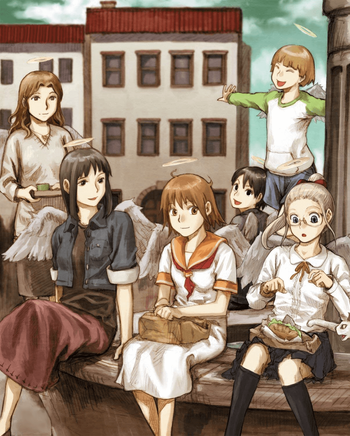 "To know your sin is to have no sin."
Haibane Renmei (Charcoal Feather Federation) is a 13-episode anime which began life as Charcoal Feathers in Old Town, a doujinshi series by Yoshitoshi ABenote intentional capitalization.
The series concerns a group of mysterious children and young adults named the Haibane, who live in a walled city which only has one entrance and which none of its inhabitants are ever allowed to leave. The Haibane differ from the regular human inhabitants of the city in the way they are born (erupting fully-formed from cocoons) and in the fact that they have both halos and wings, just like angels (though the word "Haibane" — "charcoal feather" — comes from the fact their wings are charcoal gray rather than pure white).
No one in the city truly knows where the Haibane come from or what purpose their lives serve — even the Haibane themselves are largely in the dark about it (although there is much fan speculation about their true nature). Most of the Haibane seem to remember having some sort of existence before their awakening in the city, although none can remember any concrete details about their pre-birth lives. Each Haibane has a mystical and mysterious dream while cocooned; the dream has some connection to the Haibane's previous life, and is used to give the Haibane his/her name after hatching. The only people who seem to have any information about the Haibane are the Renmei, a group of mysterious masked travelers who live at the very edges of the walled city (and are the only people who can come and go as they please), and they're anything but forthcoming.
The main heroine of the story is a newly-arrived Haibane named Rakka, who spends most of the series coming to terms with her new existence. Her friends are the gloomy, snarky Reki, tomboyish Kana, Bookworm sleepyhead Nemu, Meganekko Hikari, and the childlike Kuu.
This anime is gently-paced and contains relatively little in the way of action, instead choosing to explore the compelling mystery at the heart of the story and how it affects the characters. It's a definite must-see for fans of ABe's work (as well as anyone who may be intimidated by his other work, as Haibane Renmei is easily the gentlest of them), and for anyone who may be looking for something profound and understated.
The show is licensed in the west by Funimation.
---
Haibane Renmei provides examples of:
---