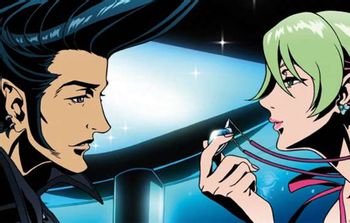 Someone's havin' doubts, huh? Hell, I'm just trying to keep this thing interesting. You can't write me off like that. You're just a voice, pal! YOU DON'T KNOW A DAMN THING ABOUT RACING!
— JP
Set in the far future, REDLINE is about the galaxy's biggest and deadliest illegal road race, only held every five years at a secret location not unveiled until practically the last minute. Naturally, everyone wants to take part, but to do so they have to qualify in one of the Yellowline races first. One such racer, 'Sweet JP', almost achieves it. Unfortunately, his prized yellow machine TRANSAM 20000 suddenly "malfunctions" just short of the finish line.
Waking up in hospital with an arm and a leg in casts and his dreams in tatters, JP is shocked to find he has in fact made the grade. It turns out the venue has been announced— and it's the fascistic, authoritarian military superpower state of Roboworld, who aren't exactly pleased about their world being used as an impromptu racetrack and make it perfectly clear that they intend to stop the racers with extreme prejudice before the starting flag has even been dropped. As a result, two racers have already dropped out, and JP (through a popularity contest) is voted in.
Produced by Madhouse Studios, the directorial debut feature of Takeshi Koike and released in 2010 after spending half a decade in development, REDLINE is a racer movie unlike anything seen before and potentially one of the most daring and important anime movies of the decade. Visually, it's easy to see that Koike is a huge fan of western graphic art, and has been influenced as much by French comic artist Jean "Moebius" Giraud, the US animated film Heavy Metal, cult UK sci-fi comic 2000 AD, and even the Star Wars movies as much as he has by the likes of Katsuhiro Otomo, Hiroyuki Imaishi or Leiji Matsumoto. Not that REDLINE feels or looks like a mash-up of different styles – somewhere in the visual chaos it unrelentingly throws at its audience it becomes something that is far more than the mere sum of parts, a unique piece of animation that at times doesn't even feel like anime in the traditional sense. It was also drawn - by hand - over the course of seven years.
Check out the totally sweet trailer.
As of late December 2011 it has been released on Bluray and DVD in the US and UK. It was dubbed and released under Manga Entertainment.
---
REDLINE contains examples of:
Abnormal Ammo: JP's mechanic: Old Man Mole has a revolver shotgun that fires screwdrivers, and he uses it to devastating effect during his Big Damn Heroes rescue of Frisbee.
Absolute Cleavage: Boiboi.
The Ace: Machinehead. A cyborg built to race and certified badass who has won the Redline several times in a row. Mind you, this is a race that only happens once in five years.
Action Girl: Arguably Sonoshee, although her action is limited to driving, as is nearly everyone else's. But for comparison, when faced with a missile bearing down on her, she pops open her cockpit, draws a gun, and pops the sucker right out of the air.

She also does a good job of fending off Lynchman with the missiles and machine guns on the Crab Sonoshee.

Advanced Tech 2000: JP's car is the TRANSAM 20000.
Aerith and Bob: James (see below) and Frisbee.
Affably Evil: Secretary Titan, with a dash of Wicked Cultured as well
All Work vs. All Play:

Sonoshee and JP as revealed in a flashback. Incidentally, rather than jeering with all the other onlookers at her as she tried to get her car out of a ditch on her own while proclaiming that she'd compete in the Redline race, JP admired Sonoshee's determination and so as a result took up racing professionally.

Almost Kiss: Two. One when JP and Sonoshee are talking about steamlight and are interrupted by Shinkai. The second one is interesting as it's involuntary:

when Machinehead uses his steamlight nitro boost in the final stretch, Sonoshee does the same in JP's car and the extreme speed forces their faces together, though they don't lock lips.

Amphibious Automobile: The Crab Sonoshee, which uses a hovercraft engine.
Anti-Climax: Just before the Redline starts, the president of Roboworld orders the planet's Kill Sat to be fired on the dropship. Nothing happens, as Lynchman and Johnny Boya had sabotaged it beforehand. Thankfully, this is made up for on spades once said Kill Sat finally sees action against Funky Boy.
Awesome, but Impractical: According to Old Man Mole, the TRZ Airmaster engines have a lot of power, but are very unstable (the one they manage to get has 35,000 horsepower). They hook it up anyway.
Awesome Mc Coolname: Quite a few.

Sonoshee McLaren, whose last name is an obvious reference to the Formula One racing team and sports car manufacturer.
"Sweet JP"; Word of God says his full name is James Punkhead.
"Machinehead" Tetsujin (Iron Man) and his vehicle, "God Wing"

The bio-weapon "Funky Boy", drawing parallels to the atomic bombs "Little Boy" and "Fat Man".

Secretary Titan.
It would actually be easier to name everyone without a awesome name. Even the announcer has the name "Void-do". His co-host has the comparatively less (but still) awesome name "Minvera Hanasse".

Badass Boast: Done by a few of the racers as you might expect, but Machinehead has real grounds for it. "I'M THE KING OF REDLINE."
Badass Driver: Hell yes! All Redline racers would have to be if they not only want to take part on the titular Redline Race but also take on on Roboworld's racetrack while fighting the military forces there.
Badass Pacifist: JP is the only racer who doesn't pack weapons of any kind on the track. He makes up for it with Hot Blood and pure driving ability.
Bare Your Midriff: Sonoshee in her racing outfit.
The Berserker: Little Deyzuna, as demonstrated during his introductory scene, or rather, beatdown of Trava.

Shinkai: "He becomes impossibly strong when he cries."
---