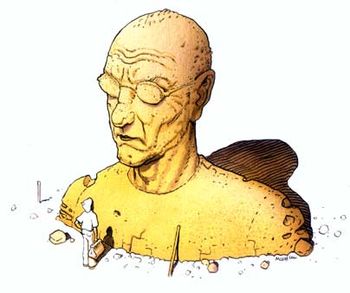 Mœbius was the Pen Name of Jean Henri Gaston Giraud (8 May 1938 – 10 March 2012), an illustrator and graphic artist of the Franco-Belgian Comics school.
Born in 1938, Giraud got to visit Mexico and the southwestern United States in the 1950s. He considered it a formative experience, and retained from it a lifelong fondness for the Western as a genre, as well as a fascination with dreams and the exploration of the unconscious. Unsurprisingly, his breakthrough series, published from 1963 in the illustrated weekly Pilote (whose editor-in-chief was René Goscinny), was the story of a rogue US cavalryman in the Wild West, Blueberry. This was under the pen-name "Gir", rather than the more famous "Mœbius".
The series was quite successful, but in 1973, Giraud decided to explore a radically different aesthetic and narrative style. Drawing inspiration from his use of hallucinogenic drugs (he speaks about this in an interview here
) and from Science Fiction, he illustrated several one-shot underground albums, and co-founded with Jean-Pierre Dionnet and Philippe Druillet Métal Hurlant, a magazine intended for alternative graphic artists (published in the US under the title Heavy Metal), and the publishing house Les Humanoïdes Associés. It was at that time that he took up the name Mœbius.
One of his first sf works, The Horny Goof, was a very loose and improvised space-opera style story with a lot of comedy elements, fetish appeal, porn (of all types available, and then some), and also plenty of Mind Screw. It established a lot of his personal tropes and motifs in later works, especially the ones revolving around the character of Major Grubert (The Airtight Garage, The Fatal Major, The Man from Ciguri), and a lot of elements used in The World of Edena, which has a wonderful Gainax Ending.
In 1975, he collaborated with Alejandro Jodorowsky on the art of a film adaptation of Dune; the project, however, remained stillborn due to Jodorowsky's enormous financial demands (the adaptation would eventually be directed by David Lynch). The sets produced for Jodorowsky's Dune were later recycled by George Lucas in the making of Star Wars. Mœbius's involvement in movies continued in 1979 with contributions to the art of Ridley Scott's Alien (alongside H. R. Giger) and in 1981 to TRON. In 1982, he worked with René Laloux on the animated feature film Time Masters. The 1982 cult movie Blade Runner used the comic The Long Tomorrow (1975) as a main design reference. Other films in which he participated as a concept artist include Willow (1988), The Abyss (1989), Little Nemo: Adventures in Slumberland, and The Fifth Element (1997). Those who had a Sega Saturn also might remember his Japanese specific boxart for the first Panzer Dragoon, which was conceptually derived from Mœbius's 1975 comic, Arzach.
His collaboration with Jodorowsky continued in the 1980s with The Incal, a Science Fiction series set in a distant future and involving a dystopian galactic empire in which secret organizations and supernatural entities vie for hegemony. The Incal is to this day his most famous work, and the one most people associate him with.
In 1988, he drew a stand-alone story for Silver Surfer that American artists such as Jim Lee and Mike Mignola consider inspirational. His work with Stan Lee on the character won the duo an Eisner.
Less active as a graphic artist since the early 1990s, he worked as an independent publisher and remained involved in the world of French-Belgian comics. In 2004-2005, an exhibition in Paris displayed his works alongside those of Hayao Miyazaki, and in 2009, his works were exhibited at the International Manga Museum in Kyoto. He was close friends with Miyazaki, to the point of naming his own daughter Nausicaa.
Mœbius's scenery porn/gorn, object design and worldbuilding abilities, combined with the sheer amount of content he generated while still in the biz, further combined with the circle of people that got exposed to his art, make this guy's influence omnipresent in every piece of science-fiction concept art that is not Giger-inspired (H.R. Giger did all the alien stuff in Alien, while all the human stuff was by Mœbius). If you cite any sci-fi film or sci-fi anime, you have a pretty good chance that it was either directly inspired by Mœbius, or inspired by something that was inspired by Mœbius, at some point in its history.
Examples of Mœbius's art can be found at his website
, all across Google, people's personal blogs, flickr, ffffound, and many other places. Go have a look.
Not to be confused with the Mirror Universe in Sonic the Hedgehog (Archie Comics), or with the mathematician
after whom the Möbius Strip is named, or with the Time Master in Legacy of Kain.