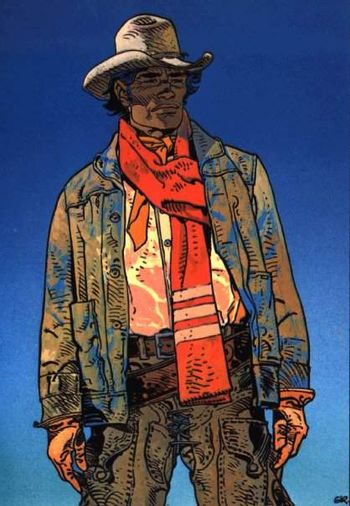 Blueberry is a Franco-Belgian Western comic series originally written by Jean-Michel Charlier and illustrated by Jean Giraud (a.k.a. Mœbius but here frequently credited as "Gir"). The title character is a veteran of the The American Civil War who was later sent to the Wild West. Born Michael Steven Donovan, he later changed his name to evade prosecution for a crime he was framed for.
When creating the series, Giraud was inspired by the time he had spent in the American West in the 1950s. The physical appearance of the character himself is based on French actor Jean-Paul Belmondo. Already fairly realistic in the first episodes, the series took advantage of loosened censorship laws in 1968 to get Darker and Edgier, with more overt depictions of violence and sexuality. In 1973, Giraud decided to redefine himself as Moebius, leaving the series to Colin Wilson (the New Zealander who worked on 2000 AD, not the British prose writer), who then passed it on to Michel Blanc-Dumont. Giraud later came back to Blueberry as a scenarist, and after Charlier's death in 1989, took over writing duties until his own death in 2012.
A film adaptation was directed by Jan Kounen in 2004, focusing on Blueberry's experimentation with Native American shamanism and trance-inducing drugs. He was played by Vincent Cassel.
Not to be confused with The Blueberry, a Nenets fairy tale.
---
Blueberry provides examples of:
---