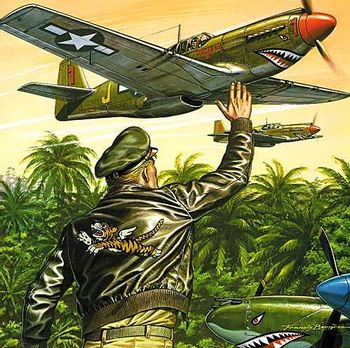 Buck Danny is a French-Belgian comic book series created by Jean-Michel Charlier and Victor Hubinon (both also the creators of Barbe-Rouge, and Charlier the creator of Blueberry). The first stories were written in 1947 and disregarding several hiatus in the 1980's and 90's new albums have been forthcoming ever since. The current count is 58 albums published over 84 years plus 8 more albums of a spin-off series. Another remarkable fact of the series is that it survived the death of the original draughtsman as well as of the original scenarist. Currently the series is written by Frédéric Zumbiehl and drawn by Gil formosa, the third writer and fifth draughtsman so far.
The title character is a pilot in the US Air Force (when he isn't assigned to the US Navy); he has two sidekicks, Jerry Tumbler and Sonny Tuckson.
Together they first get to fight the Japanese in WW2, first as regular fighter pilots, and then as part of General Chennault's Flying Tigers in China. They go their separate ways after the end of the war but quickly reunite and become civilian pilots for a shady Middle Eastern company. They decide to re-enlist in the Air Force, become test pilots for the new generations of jet aircraft, and in 1950 are sent on the Korean front. After this they are somehow transfered to the U.S.Navy where they continue to serve ever since and continue to have adventures against the backdrop of the problems of that time: the cold war, the space race, international terrorism and drug running, the fall of the Soviet Union and lately the wars in Bosnia, Iraq and Afghanistan,
The series is notable for its realistic depiction of aircraft, even as the stories themselves are pure fiction. although for a comic it features very little actual violence, it is definitely dark and violent in tone and several supporting characters die pretty violent deaths.
As was standard at the Franco-Belgian comic industry the stories were first published at a rate of one page a week in the parent company's weekly magazine. (In buck Danny's case, they were published in Spirou/Robbedoes by the publishing house Dupuis). After the series had run its course, the story was published as softcover album and later possibly bundled with several other albums in a hardcover anthology. As the standard for an album was 40 pages in one year, stories that ran longer were split into several albums forming one story arch. 12 stories are spread out over 2 albums each, 4 more over three.
---
Contains examples of:
---
<<|
French Belgian Comic Books
|>>