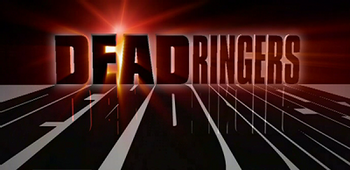 Starting off on radio in 2000, this impression-based sketch show became a TV series in 2002. Jon Culshaw is its main star. The radio series originally ended in 2005 (barring a one-off special in 2007 to mark the resignation of
Tony Blair
), and the TV version was quietly cancelled in 2007. After a long absence it returned to radio in July 2014.
Not related to the David Cronenberg film Dead Ringers.
Common Parodies
George W. Bush — "My fellow Animaniacs." Bush mangles the English language like no-one's business.
Tony Blair — Prone to over-pausing and (especially on the radio) describing his mannerisms. There was an interesting scene in one Children in Need where Jon Culshaw was doing his impression. Then the real Tony Blair arrived...
Newsnight presenter Kirsty Wark — Announcing popular song lyrics as if they were headlines, and usually ending with "More on that story later.".
Fiona Bruce — Sex-obsessed. For a clean quote: "I'm Fiona Bruce. Breaking news, breaking hearts." On the radio this role was taken by the popular Radio 4 newsreader and continuity announcer Charlotte Green.
The Fourth Doctor — One of Culshaw's best-known impressions. He's also done a few of the other Doctors as well.

In one sketch, he rang various actors who had played the Doctor over the years. This lead to some very amusing quotes, including:

Culshaw:

Tom, I am The Doctor.

Tom Baker:

That's odd... Oh no, no, there must be a mistake,

I'm

the Doctor.

—

Culshaw:

I'm in a situation of extreme peril! I have had to leave my timestream, go forward to the future, join you in your time stream — and have you help me.

Sylvester McCoy

: Have you been at the pub?

Culshaw:

For several millennia!

In fact, he's impersonated almost every Doctor, as seen when he appeared on one of the BBC's Doctor Who retrospectives. He's not done John Hurt and Peter Capaldi yet, but give him time.*
He has also impersonated Tom Baker in an official capacity in the Doctor Who Expanded Universe, voicing the Fourth Doctor in the Big Finish Doctor Who audio play "The Kingmaker" and Fake Shemping Tom's voice in the 50th anniversary parody Reunion Show The Five(ish) Doctors Reboot (both of these starred Tom's successor Peter Davison).

David Cameron — as a vote-grabbing populist who prefers to avoid controversy.
Sir Menzies Campbell (at the time, leader of the Liberal Democrats) — a doddering old man who liked to sleep a lot. Needless to say, this one was a bit on the controversial side. This impression was retired after he stepped down.
The BBC Radio 4 continuity announcers (back when the show was on the radio), particularly Brian Perkins, portrayed as a gangland boss fond of torturing and dispatching those who upset him. In the TV series, Michael Buerk took over this role.
Theresa May — alternatively spineless and halfway over the brink of despair, or stubbornly hell-bent on a Brexit deal in the face of all reality.
Boris Johnson — who seems to communicate mainly with strange grunts and growls. When the real Johnson began his leadership campaign, the character tried to tamp down on his behavior, only for his old persona to physically split away from him in times of stress.
Michael Gove — backstabbing weasel who speaks like a teenaged girl. Or alternatively,Gollum.
David Davis — the "Brexit Bulldog" who is spectacularly incompetent at his job as Brexit negotiator and gets taken advantage of by his EU counterparts in increasingly absurd ways.
Jacob Rees-Mogg — an infantile chauvinistic Upper-Class Twit who spouts off snobbish and horrific beliefs in a plummy voice.
The show has also parodied other British TV and radio series such as Torchwood, Robin Hood, Hustle, You Are What You Eat, Bleak House, The Apprentice (the British version), The Weakest Link, The Archers, and more. American shows popular in Britain also featured, such as House.
The TV show was quietly cancelled in 2007, but in 2009 a new sketch show, The Impressions Show, was released along the same premise, primarily featuring Culshaw alongside Debra Stephenson.
---
This series has examples of:
---