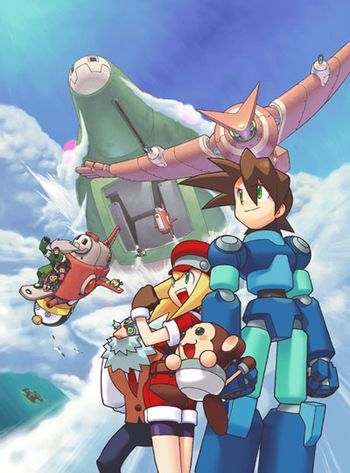 "In a world covered by endless water..."
Mega Man Legends series was Capcom's first attempt to take the Mega Man franchise into 3D. In Japan, the series is known Rockman DASH, the latter of which is an acronym of "Digouter's Adventure Story in Halcyon Days."
The storyline revolves around "Mega Man Volnutt" and his friends/surrogate family Roll and Barrel Caskett — a team of "Diggers" exploring the ruins left by the Precursors searching for energy-generating refractors that are more precious than gold in their Scavenger World. Opposing them are the Bonne Family, a trio of Ineffectual Sympathetic Villain Pirates. Other foes include Glyde, a pirate who hates Teisel Bonne's guts, Bola and Claymore, two former pirates/bounty hunters who kick some serious ass, despite being very old, and others.
Mega Man Legends (1997) is about Volnutt and the Casketts fighting to keep the Bonnes from destroying an island town to steal an ancient treasure buried there, while uncovering the secret behind a centennial catastrophe about to befall it. This game was rereleased on the Nintendo 64 under the title Mega Man 64, and re-released on September 29th, 2015 for the PlayStation 3, Vita, and PlayStation TV.
The Misadventures of Tron Bonne (1999) is a prequel in which Tron and her Servbots have to go on a crime spree to save her brothers Teisel and Bon from Glyde. The game was re-released on May 6th, 2015 for the PlayStation 3, PSP, Vita and PlayStation TV, four years after the cancellation of Mega Man Legends 3.
Mega Man Legends 2 (2000) picks up a year after the end of the first game, with Volnutt and the Casketts having beaten Juno and the Bonnes. The game introduces Glyde, Bola, and Claymore as three more rivals to Volnutt, along with the mysterious Yuna and Sera. The plot revolves around the mysteries surrounding Volnutt, Juno, and the origins of both Elysium and Terra. The game was re-released on April 5th, 2016 for the PlayStation 3, Vita, and PlayStation TV.
Rockman DASH: Itsutsu no Shima no Daibōken! ("Big 5 Island Adventure") is a mobile game released in 2008 on Japanese cell phones. The game is a midquel, taking place between the first and second games of the series. Rumors claimed that the game might see a release on WiiWare or DSiware like the formerly-cell-phone only Final Fantasy IV: The After Years, but it never materialized.
Mega Man Legends 3 was announced as a Nintendo 3DS title on September 29, 2010, almost 10 years after the release of Legends 2. Unfortunately, on July 18, 2011, Capcom announced that the project had been cancelled.
Unlike the other games in the series, Legends is more of an adventure game with loads of exploration and character interaction, as opposed to the hardcore side-scrolling shooters the other games are, and many parallels can be drawn between its gameplay and the gameplay of the 3D installments of Nintendo's Zelda franchise.
In aesthetic and themes, it's very obviously influenced by Hayao Miyazaki films, specifically Castle in the Sky. In fact, the Reaverbots, the ancient robots found in the ruins of the game, are quite obvious shout-outs to the robots in Castle in the Sky. Likewise, the archetypes of an adventurous boy, a capable female companion, and lost civilizations are very much present as well.
Despite the small amount of games, characters from this series have made more appearances in Capcom vs. titles than all the other series combined. note Notably Tron Bonne. The series gained a spiritual successor in the form of Red Ash. Unfortunately, due to the controversy surrounding the game's Kickstarter campaign and the overwhelmingly negative reception of its fellow spiritual successor, Mighty No. 9, it's uncertain if Red Ash will see the light of day outside of its very brief anime adaptation debut.
---
Tropes:
Speed Run Reward: The first game normally hides its Easy Mode behind clearing Hard Mode. However, at the end of the story, Data hints that Easy Mode can be unlocked by clearing Normal Mode under a certain amount of time (roughly three hours).

Data: Did you know that if you start a new game without cutting the power, you can try the game again at a different difficulty setting? Here's another hint...The faster you play, or the harder it is, the easier it will become...Wonder what that means? Maybe you can figure it out...

Stealthy Mook: The Blue Sharukurusu in the Lake Ruins. As if the regular green versions weren't tough enough already, these blue ones will remain invisible until they are near you. Which is probably a few seconds away from impaling you. Nothing screams "Nightmare Fuel" like hearing Reaverbot footsteps and being unable see the enemy until it's too late...
Suicidal "Gotcha!": Legends 1's tutorial ruin ends with Mega Man pulling one.
Super Title 64 Advance: The Nintendo 64 version of the first Legends is (rather appropriately) titled Mega Man 64.
Tactical Suicide Boss:

The Marlwolf would be untouchable if the Servbots would quit opening the hatch to throw bombs at you. Tiesel even lampshades it, constantly screaming at them during the fight to stop opening the hatch, but they don't listen.
Balkon Gerät is entirely invincible, even as Megaman blasts its arms off. And then it decides to use the giant plasma cannon on it's back, which turns out to be it's weak point.

Take Your Time:

In Legends 1,

Mega Man Juno is going to "purge" the island! You have to chase and stop him! Oh, that's right, you can go back to the surface and finish up any unfinished sidequests and partake in any TV show minigames, it's not like Juno will purge the island anytime soon...

And then in Legends 2,

oh look, Sera is off to the Elysium to activate the "Carbon Reinitialization Program" and wipe out the entire population of Terra... what's that? You want to run around farming Reaverbots for zenny for several hours? All right, we won't stop you...

Except justified in that case since when you reach the final boss chamber, Sera reveals she could have activated the Carbon Reinitialization Program at any time. However, she decided to wait for Mega Man Trigger to show up because she wanted to personally defeat him first, believing this would resolve her feelings of jealousy over the Master's favoritism towards him.

Tank Controls: Mega Man can turn while moving, but only barely, which puts him two generations ahead of the Resident Evil games on the same console. But he still has trouble with free movement. Averted with Legends 2, as it was made after the Sony Dualshock controller had been out for a while and become common place, and thus 2 was designed accordingly for it.
Terrible Trio: The three members of the Bonne family definitely fit this.
Third Is 3D: Mega Man Legends 3 on the 3DS. Well, that was the plan, anyway.

Also applies to the series as a whole, being the third series after the original and Mega Man X.

Title Drop: The Japanese version's Tomato in the Mirror at the end of the first game is the first time the term "Rockman" is used.
Title Scream: "THE MISADVENTURES OF TRON BONNE!"
Tremor Trampoline: A minor case happens during the cutscene before the first fight against Tron in the first game; she lands her robot quite hard that it literally bounces Mega Man off his feet. Averted during actual gameplay, though, as hard impacts from large foes like that create damaging shockwaves that have to be jumped over.
Tropical Island Adventure: The series takes place on several tropical islands created after the world was flooded long ago.
Turned Against Their Masters: The ancient humans knew damn well how risky making the Carbons was, so they set up all sorts of failsafes designed to wipe out the Carbons if they went rogue, or if their numbers exceeded a certain limit without authorization. Then the ancient humans died out, and in their absence the Carbons began to build a civilization of their own. The failsafes interpret this as a rebellion. Oops.
Tomato In The Dyson Sphere: How is Volnutt the only one who can understand Data? Simple: he's a Ridiculously Human Robot. Everyone else? Either Artificial Humans or fellow Ridiculously Human Robots with strict orders to wipe out the Artificial Humans and rebuild humanity on the freshly-vacated planet.
Took a Shortcut: In Legends 2, Data has a habit of turning up deep inside hostile dungeons, usually right outside the boss room. Don't question it, just take the free energy recharge.
Tsundere: Tron Bonne
Unexplained Recovery: A variant we can call 'unexplained freedom from prison'. The Misadventures of Tron Bonne ends with

Loathe and Glyde rightfully imprisoned for their crimes, which include piracy, extortion, and slavery, among various other implied crimes

. Come Legends 2,

Glyde is out of prison with no acknowledgement of an escape. That Loathe is nowhere to be seen when Glyde was only ever treated as his dragon previously, only makes things more baffling.

Unique Enemy: You will encounter only one green Cannam (the spider-robot thingy which attacks you in the first level) in the entire game. Later in the game though you will battle three brown Cannams simultaneously. They aren't difficult enough to qualify as Elite Mooks, and don't show up anywhere else.
Unlockable Difficulty Levels: The easy mode is unlocked by completing the hard mode, making it a Bragging Rights Reward.
Utility Weapon

The Vacuum Arm doesn't do any damage to enemies, but can quickly pick up scattered refractor shards and other power-ups before they disappear.
The Drill Arm does do damage, but you'll use it more for busting down cracked walls to reach hidden areas than you will for fighting enemies.
The Aqua Blaster in Legends 2 is used for putting out fires.

Verbal Tic: Birdbots' "ku-keh!", Appo and Dah's random laughter, and so on.
Vicious Cycle: The plot of the first game. Archaeological evidence indicates a "legendary disaster" wipes out all human life on Kattleox Island every 100 years. Guess what time it is when Mega Man shows up?
Victory Fakeout:

The first boss only just subverts this. Mega Man Volnutt defeats it, but the boss decides to go for round two and follows him outside, but Volnutt only just gets away in the Flutter.
Much later on, Volnutt finally destroys the Gesellschaft and the words MISSION COMPLETE appear, but then

the Bonnes reveals the Focke-Wulf, resulting in another boss battle

.

Video Game Caring Potential: Across the two games, you can adopt stray animals, donate to reconstruction funds for destroyed cities, donate to the church, donate to the hospital, help the police solve crimes, help a pregnant mother to the hospital, and buy gifts for Roll.
Video Game Cruelty Potential:

On the other hand, you can abuse wild animals, attack NPCs caught in fire zones, attack Roll in a fire zone and generally be mean to her, refuse to help out those who explicitly ask for it, steal money from the bank, and in general can just be a jerk to people.
The Misadventures of Trone Bonne uses this as a gameplay mechanic. You cure Servbots of their laziness by torturing them. If unsuccessful, the Servbot lampshades this.

Tron: Well? Have you learned your lesson?
Servbot: What do you think you're doing!? I could have been killed!

Video Game Cruelty Punishment: Early on in the first game, Data will give you a weapon add-on and say "Am I a good boy or what?" If you a respond with a no, he'll immediately take it back.
Video Game 3D Leap: From the 2D of the SNES and NES era to full polygonal models.
Villainesses Want Heroes: Tron develops quite an interest in Mega Man as the series develops.
Villain Protagonist: Tron in her game. The main way she works to repair her family's debt is stealing stuff and selling it for cash.
Wake-Up Call Boss:

The Marlwolf in 1. It's the first boss with a specific weak point you have to hit, it's the first boss to use the green energy orb attack that most Bonne robots use, it has a decent amount of health, and if you don't know how to disable its treads, it's very fast, too.
Yakuto Krabbe in 2. Very fast, very strong, a lot of health, and as a very early boss you don't have a lot of special weapons yet and probably haven't had time to buy much equipment. Enjoy!

Warm-Up Boss: The one-armed Hammuru Doll in 1, Jaiwan in 2. Both are Smash Mooks who move slowly, and their attacks are very easy to avoid.
Wham Line: Near the end of the game, when the humans' doom are approaching by Reorigination order,

Data

gave a long override command essentially telling the system to stop the origination protocol, redirect authority to Volnutt and delete Juno's backup data, and the system complies.
Wolfpack Boss: The wolf-like Karumuna Bashes, when you fight 3 of them in the Clozer Woods Sub-Gate.
Worthy Opponent: While initially having nothing but spite for him due to ruining their plans, Tiesel Bonne acknowledges Mega Man as this by the end of the first game.
Wrench Wench: Roll Casket and Tron Bonne.
You Are Number 6: The Servbots are all distinguished by numbers (the order in which Tron created them). In Misadventures, you can give them names.
---