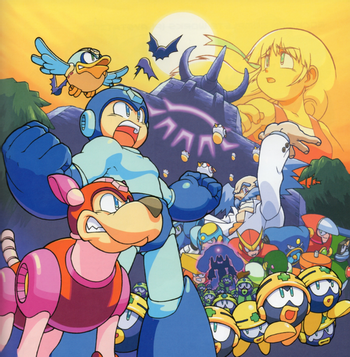 Super Adventure Rockman
is a Japan-only
Interactive Movie
in the
Mega Man
franchise, specifically
the classic series
. It was released for the
Sega Saturn
and
PlayStation
.
Dr. Wily has uncovered an ancient alien supercomputer, Ra Moon, hidden in the ruins of the Amazon. He uses it to revive his Robot Masters from Mega Man 2 and Mega Man 3. The ruins are capable of causing almost all of the machinery and electricity in the world, including robots, to shut down. Roll is quickly affected, so Dr. Light immunizes Mega Man and his brothers and sends them to stop Dr. Wily before it's too late.
Notably Darker and Edgier than the rest of the classic series, it was disowned by Keiji Inafune and Capcom as a whole. It is perhaps for this reason that the game was never released outside of Japan, or get acknowledged in any official materials until the adaptation in Archie Comics' Mega Man and a small acknowledgment in Super Smash Bros. for Nintendo 3DS and Wii U and Super Smash Bros. Ultimate (If Mega Man uses his Up or Down Smash, he'll stop to vent heat from his busters like what happens after he beats Ra Moon). Translations of the game's cutscene portions are also available online
.
The game is also notable for being one of the very few times that Dr. Wily isn't the final boss.
---
This game contains examples of:
Adaptational Badass: Gemini Man has more of his copies by his side when he becomes the second episode's final boss.
Adaptational Villainy: Shadow Man is much worse here than his canon counterpart. He mocks Quick Man for sacrificing himself to protect Mega Man. Needless to say, Shadow Man gets what's coming for him.
Anti-Villain: Wood Man. He's entirely motivated by the death of his friend Shadow Man, whom Mega Man destroyed beyond repair at the end of Chapter 1, and sets out to avenge him by terminating Mega Man himself.

Wood Man: How dare you do this to Shadow Man?! You even destroyed his core! He can't come back now. He was... he was my only friend! I'll avenge him! Fight me!
Taking the Bullet:

Quick Man takes one of Shadow Man's blades and dies. He gets better, though.
"The Reason You Suck" Speech: Wood Man chews out Mega Man for killing Shadow Man prior to his boss battle.
The Unfought:

In addition to not being the Final Boss, this is probably the only classic Mega Man game where Dr. Wily appears, yet is never fought at all.
Either Heat Man or Bubble Man won't be fought if Mega Man traveled up the mountain or down the river. Though Proto Man handles the other.
Ra Moon itself is technically unfought, as its guardian, the New Yellow Devil/Ra Devil is the Final Boss and Rock destroys both of them with the Double Mega Buster.
---