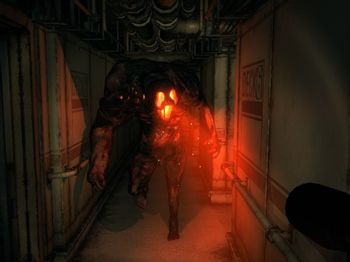 "..it sounds like the most demonic game of Pac-Man ever conceived."
— Dave Cook, VG 24/7
Monstrum is a combination of the Roguelike and Survival Horror genres developed by Team Junkfish. It was released for PC on May 20th, 2015, with the versions for PlayStation 4, Nintendo Switch and Xbox One following on November 30th, 2019. In addition, content themed on this game was released as DLC for Dark Deception: Monsters & Mortals in December of 2020.
It places the player on a derelict, procedurally generated cargo ship, where they must attempt to find a way off. Seems straightforward, except all the escape routes are missing components to make them work, and standing between you and those components there are certain... creatures.
The gameplay is based around object-driven puzzle solving and escaping the monsters lurking within the ship, who will be alerted to your presence by any noise you make. The items you need are somewhere in the ship and may not even be present, forcing players to change their plans. The player and the creature are the only living things on the vessel, and that monster is hunting you from the moment the game starts. Each new file pits the player against one of three different monsters, but you'll never know which one you're facing until it finds you.
An Asymmetric Multiplayer sequel, Monstrum 2, was announced in early 2019 and scheduled for release in late 2020. Taking place on an isolated sea fortress, 1 player takes the role of the monster while the other players take the role of prisoners attempting to escape.
---
This game contains examples of the following tropes:
---