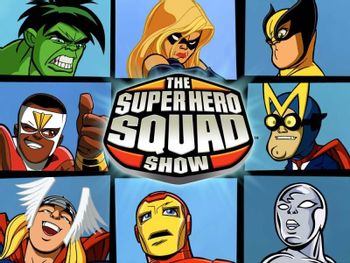 The Super Hero Squad Show (2009-2011) is an animated television series by Marvel Animation based on the Marvel Super Hero Squad action figure line from Hasbro and a humorous take on the Marvel Universe. The series' animation is produced by Film Roman. While at first coming off as a ridiculous Disneyfication, especially since it began airing about two weeks after Disney announced it would buy Marvel (though this was in production way before that and Disney had nothing to do with it), it turns out to be more of a series full of jokes only the older comic book fans will get. Taken like this, it's surprisingly funny.
Prior to the beginning of the series, the villainous Doctor Doom, in pursuit of universal domination, attempts to acquire the limitless reality-bending power of the "Infinity Sword". He is stopped by Iron Man, but as a consequence of their battle, the sword is shattered into numerous "fractals" that rain down on Superhero City.
As the series begins, Doctor Doom has forged alliances with just about every supervillain, forming the Lethal Legion in order to hunt down the scattered fractals, each of which possesses dangerous and different powers of their own. Doom's forces, including his two primary henchmen M.O.D.O.K. and the Abomination, dwell in Villainville which is separated from Superhero City by a giant wall erected at the start of the series premiere. Once again opposing Doom's plan is Iron Man, now leading the elite team known as the Super Hero Squad, consisting of The Falcon, The Hulk, Silver Surfer, Thor, and Wolverine. The Super Hero Squad are headquartered in the S.H.I.E.L.D. helicarrier, and are frequently aided in their defence of Super Hero City by their superhero friends, including their boss Captain America, rookie "Squaddie" Reptil, S.H.I.E.L.D. leader Ms. Marvel, and many more.
The second season starts after the Infinity Sword is reforged; it's taken by the Silver Surfer when he rejoins Galactus as his herald. The plot focuses on Thanos, who wants to complete the all-powerful Infinity Gauntlet to become supreme ruler of the universe. The Scarlet Witch takes the Silver Surfer's place as the Squad travels across the universe to foil Thanos' plan.
Originally aired on Cartoon Network, being the last Marvel cartoon to do so. Later aired on The Hub. Currently on Disney+.
---
This series provides examples of:
Enemy Mine: Occasionally, the heroes would team up with the villains against a common threat.

The Squad teams up with Chthon in "Mother of Doom" to help him get his powers back from Doctor Doom.
All the heroes and villains join forces in "This Al Dente Earth" in order to stop Galactus.

Eviler than Thou: This happens to Doom when Dormammu comes to town.
Medium Awareness:

One episode features Dr. Doom and Magneto joining forces to obtain fractals, and end up accusing each other of stealing the entire pot. They had Falcon supposedly imprisoned, but he suddenly appears out of nowhere and snatches the remaining fractal in front of them.

Magneto: I did not steal your fractals!
Falcon: Actually, it was me. Wish I could tell you about it, but... read the message boards.

Again in "Days, Nights and Weekends of Future Past":

Scarlet Witch: What do they write about me on your message boards?
Falcon: Uhh... nothing but positive things.
Scarlet Witch: Liar! No one EVER writes positive things on message boards!
Trojan Prisoner: In "Days, Nights, and Weekends of Future Past!", H.E.R.B.I.E. sneaks Falcon and Magneto into prison by pretending to be a Sentinel and marching them up to the doors of the prison.
---