This page contains unmarked spoilers for the original Yu-Gi-Oh! manga and anime.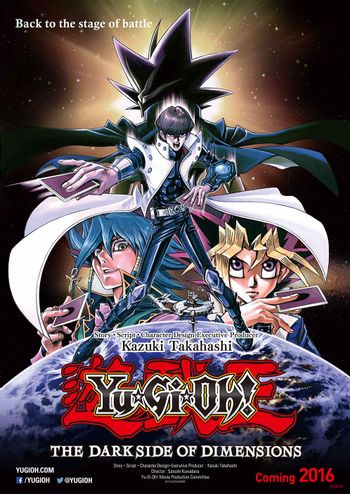 Yu-Gi-Oh! The Darkside of Dimensions is a Yu-Gi-Oh! movie to commemorate the franchise's 20th anniversary. It was released in Japan on April 23, 2016, with other territories receiving the film later in the year. The US got the film on January 20, 2017. Kazuki Takahashi is the executive producer of the film and is in charge of the designs, script, and story, making this the first movie in the franchise with the direct involvement of its creator.
The movie takes place six months after the original manga in the Japanese version and one year after the anime dub in the West
. With the Pharaoh departed, Yugi Mutou and his friends resume a normal lifestyle. However, all of that changes when they encounter a mysterious classmate, Aigami, who possesses a connection to the Pharaoh's homeland. Meanwhile, Seto Kaiba, having lost a powerful rival, begins a hunt for the Millennium Puzzle that draws him into conflict from both sides...
A two-part prequel manga, entitled Yu-Gi-Oh! TRANSCEND GAME, was released in the two weeks preceding the movie, explaining the Duel Links VR system, how it works, and what Kaiba hopes to achieve with it, while also contending with Sera and Aigami attempting to thwart his plans.
---
This movie provides examples of:
---