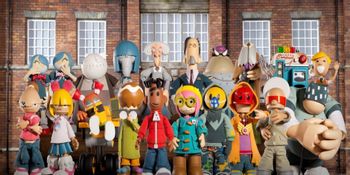 Strange Hill High follows the misadventures of friends Mitchell, Becky, and Templeton at their strange school.
The series consists of puppets combined with Japanese toys and CGI animation.
Now has a character sheet.
Do not confuse it for the different spooky schools seen in two seperate comics that are also called Strange Hill (one in Whizzer and Chips, the other in The Dandy), both derive their name from being a pun on Grange Hill. Compare with Black Hole High, a show with a similar premise of strange goings-on in a school.
---
This show contains examples of the following tropes:
---