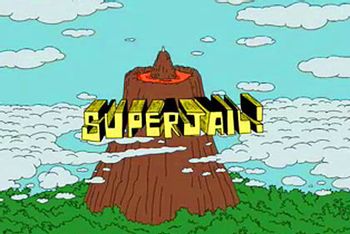 Part of the [adult swim] lineup, Superjail! is a surreal and very gory comedy series about a magical jail and its deranged staff. The show takes place in the eponymous prison, built inside an extinct volcano inside an active volcano, and home to endless numbers of ultra-violent Red Shirt prisoners. The series started in 2008 and lasted for four seasons.
The series's trademark is that by the end of each episode, there will be a long sequence of nothing but surreal carnage from corner to corner of the screen. The series' visual effects, of detailed and highly expressive animation often running at twice the usual framerate of normal animation.
Controlling the jail is the Warden (David Wain), an eccentric and twisted Willy Wonka lookalike with a flair for the dramatic and a face like Josef Mengele. Joining him are:
Jared: The Warden's vertically challenged and neurotic assistant, trying (and mostly failing) to recover from virtually every addiction imaginable. Often the Butt-Monkey of both the prison and his co-workers. He harbors a crush on the Warden that he sublimates into sycophantic behavior.
Alice: The muscular, transgender prison guard. The Warden has a crush on her (though is initially unaware of her trans status), but regulations prevent them from dating... not that Alice would want to, anyway.
Jailbot: The jail's Do-Anything Robot. He usually starts the episode off by capturing Jacknife.
Jacknife: A random, knife-wielding psychopath who gets captured at the start of every episode, only to conveniently escape by the end.
The Twins: Creepy Twins from another planet with a Eurobeat theme song, whose sole purpose appears to be to cause as much havoc as possible inside the jail for their own amusement, sabotaging everything the Warden cooks up. Though they do occasionally bite off more than they can chew.
Jean and Paul: Those Two Guys in the show, Jean and Paul are two gay prison inmates who, despite playing almost no importance to the plot or episodes at all, are still popular and important just enough to avoid being killed off.
Gary and Bird: The unofficial head of the prisoners. Gary is a surprisingly clean-looking man devoid of tattoos or facial hair and seems to be mute, only communicating with Bird, a small canary that constantly accompanies him. Although he hasn't shown it in the show, the Superjail database logs him as highly dangerous. He's also an obvious Shout-Out to Robert Franklin Stroud.
The Doctor: A Mad Scientist with a German accent, he is in charge of Superjail's scientific and technological advancements (mostly horrifying hybrids). He gets a much more prominent role in Season 2.
The Mistress of Ultraprison and her crew: Superjail's Distaff Counterpart.
Lord Stingray: A supervillain who once tried to take over Superjail but is now one of the prison inmates.
The first season was animated by Augenblick Studios in Brooklyn, New York. A second season began airing on April 4, 2011 at midnight, with animation this time being handled by Titmouse, Inc, in California, and the new Titmouse, Inc. branch opening in Manhattan, New York. It had episodes devoted to fleshing out the characters and their backstories, and shifted its focus to creative close-up gore rather than mass bloodbath sequences. A third season aired on September 30, 2012, and brought back the bloodbaths, furthered the Character Development, as well as changing the animation back to a style that was a little more reminiscent of Augenblick's episodes.
The fourth season aired June 15th, 2014. Unlike the previous three seasons, there were six episodes and not a full order of ten. After a year of no indication of the show's fate, it was revealed in the 2015 Adult Swim announcements that the show was not renewed for a fifth season.
---
This show provides examples of:
open/close all folders
A-F
All Girls Like Ponies: Parodied in "Burn Stoolie Burn", when both the Warden and Ash (both male characters) express their liking towards ponies.
G-L
Genius Ditz: The Warden, as he built Jailbot waaay back when he was youngernote
Genius Loci: It's speculated that the jail has a mind of its own. Maybe more than one.
Gainax Ending: One per episode, often bordering on Nightmare Fuel.

"Often bordering"? It's totally blown out. "Terrorarium" is one of the weirdest, at least.

To say nothing of "Dream Machine".

The first season finale's ending is the greatest example for the show.

Gender Is No Object: Both male and female prisoners are temporarily integrated together at the start of season 3. You'd think the males would be more than eager to just have sex with the women, but no... Both genders just want to beat the crap out of each other.

Although we do see that at least one Ultraprison inmate got pregnant... only for her to be instantly incinerated to a charred skeleton and a pile of organs that the Doctor collects.

Generation Xerox: Jackknife's briefly seen father looks exactly like grown up Jackknife, with no hair.
Geographic Flexibility: Aside from the events of episodes usually being reset, the outside surroundings of the jail and its very size are also subject to change depending on the need for the plot or the artist's rendition. Sometimes there seems to be just a plain desert outside the jail gates note , some grassy plains note , buildings and a town note , or a beach and pathway leading to the gates note . There's also the matter of how the jail can be entered through the smaller volcano. The inside of the jail and its scale also varies about.
Gorn: [adult swim] has gone on record that Superjail has more deaths in one season than Metalocalypse did in its first two. In other words, it's pretty gory. Although after the switch to Titmouse (the studio behind Metalocalypse) for season 2, one of the criticisms was that it looked less gory.

Lampshaded in the episode "Ghosts", where it's said that the jail newspaper has 50 pages of obituary!

Grossout Show: Blood, guts, bodily fluids, and crude sex jokes all have their place in the episodes. Seasons 2 and 3 have a bit of increase in the toilet humor department.
Grotesque Cute: Jailbot and the bugs in Terrorarium, when not tearing you to shreds.
Handicapped Badass: The crippled inmates from "Special Needs".
Heroic Comedic Sociopath: A possible case in the Warden. While dedicated to his job and perfecting the art of incarceration, he is AT LEAST a psychopathic sadist. Most of the people he ends up killing - generally indirectly - are dangerous inmates who pose a clear threat to society.
Hive Mind: The monstrosity from "Mayhem Donor" is this. The Doctor becomes the hive king, and wants to unite the populace of Superjail to end world suffering. He gives a speech about abolishing class, race, etc.
Horsemen of the Apocalypse: In The Superjail Inquisitor, the Triplets make it so that the newspaper tabloids become real. One of them includes the horsemen. Incidentally, Conquest is among the four, but Pestilence is part of the Apocalypse.
How Dare You Die on Me!:

Jared

to

The Warden

in Ghosts. Also, the Warden to Jailbot.
Human Notepad: "Salty", the old captain seen in the "Vacation" episode, has the map of the floating islands tattooed on his back. Of course when he dies Lord Stingray rips the skin off of his back to keep the map.
Humongous Mecha: Superjail is revealed to have one in "Mayhem Donor" (made to look like the Warden, of course). It has two huge drills but it's almost completely ineffective against the Doctor's experiment.

In 'Lord Stingray Crash Party', there's a Jenner-type spherical mech that looks like the Warden's head with legs, with guns sticking out of the pupils that walks across the background shooting at things multiple times.
In "Uh-Oh, It's Magic", there's an example of Meta Mecha: a giant robotic version of PeeDee, piloted by the ventriloquist puppet itself

and itself piloted by Bird

.

Hypocritical Humor: This too can often pop up in episodes.
I Like My X Like I Like My Y: Lord Stingray likes his coffee the way he likes his minions: strong and simple.
Idiot Ball: In an early example, Alice and all of the inmates basically get hit by it in "Mr. Grumpy-Pants". When Ash finds the little girl with cancer, he reads her bracelet and assumes that the word "Cancer" is her name (pronounced San-Ser) and that her estimated date of death is her birthday. Alice gets it even worse when the girl coughs up blood, with her assuming that the young girl had her first period.

The Mistress gets hit with it big-time when she easily believes that the shady Lord Stingray is the seafaring "Captain Stingray", and immediately falls head over heels in love with him afterwards. She still believes him to be a captain when she kicks him out of their room and doesn't bother demoting him to captivity and inmate coveralls (as she had with the Warden, Jared, and the Doctor).

Incredible Shrinking Man: The Warden used a special serum to shrink five of the inmates in "Terrorarium" and placed them in an insect-infested snow globe in a race to find a serum that would bring the victor to normal size.

The Twins display shrinking as part of their power set, most notably in "Terrorarium", "Cold-Blooded", as well as in at least five of their season 3 appearances.

If It's You, It's Okay: The Warden eventually gets a full view of Alice's genitalia. After the initial surprise, he absolutely doesn't mind, partly since he's more concerned about getting back to the jail. It's left up for debate if he completely forgot about that detail afterwards (owing to the negative continuity in the show, or with being kept in captivity by the Mistress for so long), or if he just doesn't care what Alice might have.

Played with earlier in "Jailbot 2.0", when the titular replacement attempts to out her bulge to the Warden. The Warden becomes appalled, but only because it "curves and droops".

Improbable Infant Survival: Weaponized in "Oedipus Mess" by Jacknife, who throws newborn babies to Jailbot, knowing that he'll stop pursuing him to save them. Jailbot then rescues them and still kicks Jacknife's ass.
M-R
S-Y
---