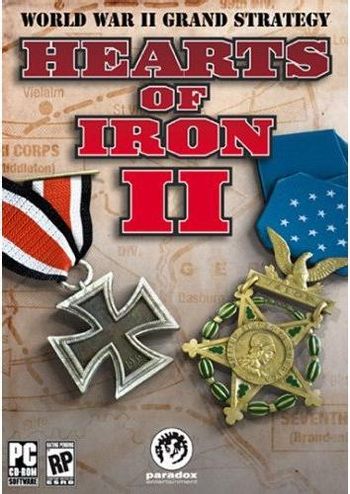 A series of World War II Turn-Based Strategy / Real-Time Strategy and management Simulation Games by Paradox Interactive. The games allow players to take the role of virtually any country on Earth as of the time at the beginning of the games' various scenarios.
The series currently consists of :
Hearts of Iron (2002)
Hearts of Iron II (2005)

Has two expansions: Doomsday and Armageddon
As well as two official updated version/add-ons: Arsenal of Democracy, and Iron Cross
Another update which includes World War I has been released: Darkest Hour

Hearts of Iron III (2009)

Has received four download-only expansions: Semper Fi, Dies Irae: Gotterdammerung (a Germany-focused mod for Semper Fi), For the Motherland (which breaks compatibility with DI:G), and Their Finest Hour.

Hearts of Iron IV (2016), released on 6th June 2016.

The first major DLC, Together for Victory, focuses on the Commonwealth nations (Canada, Australia, New Zealand, South Africa, British India) and also adds a new system for puppet nations.
The second DLC, Death or Dishonor, focuses on the Axis nations, and also adds new focuses and events for Czechoslovakia, Romania, Hungary and Yugoslavia.
A third DLC, Waking the Tiger, focuses on China and Japan and also adds alternate history paths for Germany to become a democracy or return to monarchy.
A fourth DLC, Man the Guns, reworks naval combat, adds fuel as a new resource for vehicles, and offers new paths for Mexico, and Netherlands and a revamped focus trees for America and Britain.
A fifth DLC, La Résistance, reworks resistance and uprisings in occupied territory, adds espionage and commando raids, adds a revamped focus tree for France, and adds new paths for Portugal and, Nationalist and Republican Spain.

Hearts of Iron: The Card Game (2011) which uses the series name and is based on World War II but has little else in common
East Vs. West, set during the Cold War, which was canceled.
The games have a large modding scene actively encouraged by the developers.
Mods with their own pages:
Kaiserreich: Legacy of the Weltkrieg, set in an alternate history where the Central Powers won WWI. Active since Hearts of Iron 2 and one of the largest mods of the community.

Führerreich: Legacy of the Great War, a Spinoff of Kaiserreich based on a fictional alternate history book inside the Kaiserreich world where Germany lost WW1 but had a radically different result then our timeline.
Red Flood, another spinoff of Kaiserreich (loosely) based on another fictional alternate history book inside the Kaiserreich world where nobody won WW1 (France lost against Germany then Germany lost against Russia), resulting in another different (and even weirder) world, where the majors powers include a weakened Commonwealth, a communist Germany, a nationalist and divided Russian Empire, and a far-right France ruled by the surrealists.

Equestria at War, a Hearts of Iron 4 mod set in an expanded, Darker and Edgier version of the My Little Pony Friendship Is Magic setting that blends WW2 tech with Magitek and fantasy races.
The New Order: Last Days of Europe, an upcoming alt-history mod for Hearts of Iron 4 set in a world where the Axis achieves a total victory in the Second World War, and then everything goes From Bad to Worse. TNO is narratively-driven and incredibly ambitious, featuring large amounts of unique events and scenarios.
Red World: A modern-day alternate history mod where the Soviet Union "wins" the Cold War but fails to create a new world order and has to dispute the control of the world with fellow socialists and communists.
Old World Blues, a mod set in (and allowing the player to determine the outcome of) the events of Fallout: New Vegas.
Thousand-Week Reich, another upcoming alt-history mod for Hearts of Iron 4, set in a world where Nazi Germany won the Second World War. While similar to The New Order conceptually, Thousand-Week Reich strives for a more realistic scenario, and plays very differently.
The Gates of Versailles, an alt-history mod exploring a world where the Napoleonic wars ended in a stalemate and France remained an empire and the Jacobin ideology surplanted communism as the predominant far-left ideology.
Other mods of interest
Darkest Hour started as a historical mod for HoI2, eventually released as a game on its own when Paradox started licensing its Europa engine.
BlackICE, a "historical immersion mod". Unlike countless other mods from this lists, its main selling point is trying to recreate as much of history and historical background as only possible, while throwing it into mix of already expanded gameplay rules and unit and technology rework. Oh, and being developed for HoI3, utilising fully its infamously layered gameplay mechanics to the fullest, so combined arms, proper division structure, logistics, production efficiency, weather, air coverage and radio range are going to haunt you if you don't take them all seriously enough. A HoI4 version exists, but it's nowhere near as polished as the one for 3, especially considering how the base game is still in active development, while 3's wrapped years ago.
FODD or FallOut DoomsDay mod is at this point an ancient mod for HoI2 (as the name implies, works begun around the time Doomsday expansion for HoI2 was released), eventually migrating to Darkest Hour and is still in development, with semi-regular updates. Unlike most Fallout mods, this one does its darnest to provide content for all of North America, rather than focusing on NCR or New Vegas content. Unlike most Fallout mods, it ignores entirely Fallout 3 and 4 (sans The Pitt DLC), while fully embracing Fallout Tactics, so YMMV.
Several popular and related modern day 21st century mods, including Modern Day Scenario II for Hearts of Iron 2, Millennium Dawn: Modern Day and Modern Day 4 for Hearts of Iron 4. The last two are currently in a process of merging.
Road to 56, a Hearts of Iron 4 mod which allows you to continue researching new technologies well into The '50s, and adds political actions that countries ignored in the base game (such as in the Middle East or Latin America) can take.
Hearts of Iron: 1984, a Hearts of Iron 4 mod set in the world of Nineteen Eighty Four, making each of the three Space Filling Empires playable; the disputed areas are themselves split into five playable countries (Free Africa, Free Arabia, Free India, Free Indochina, and Free Indonesia). The starting date is 1980 and a world war erupts in 1984 thanks to a scripted event. Due to the limited scope of the source (the novel being told from the perspective of an average citizen living in a specific part of Oceania), the modder had to use their imagination to fill the blanks, starting with the leaders of the other nations; Eurasia's leader is named "Mother Russia" and represented by a portrait of Valentina Tereshkova (of all people), while Eastasia's leader is named "Immortal Father" and is represented by a portrait of Mao Zedong. Due to its limited number of nations (and the fact AI is bad at managing empires so huge), this mod is actually intended for multiplayer games (though an alternate scenario is included, which splits the three superstates into five independant allied nations, more manageable by the AI).
Now has a Character Sheet.
---
This video game series provides examples of:
---