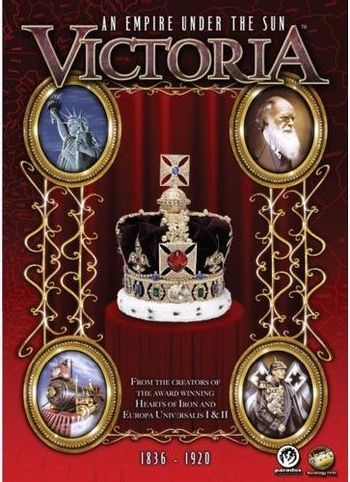 Victoria: An Empire Under the Sun, affectionately known as "Vicky" among its fans, is a Grand Strategy game created and published in 2003 by Paradox Interactive.
Chronologically, it follows its sister series Europa Universalis and precedes its other sibling, the Hearts of Iron series. Vicky starts in 1836 and ending in 1920 (or 1936, if you bought the Expansion Pack). The game is noted for being arguably the most complicated of the Paradox Interactive games, dealing not only with war but also with an impressive economic and political system. It is noted as one of the better aversions of the Command & Conquer Economy.
The game was noticeably buggy at release, but some patches, the Expansion Pack (which radically changed the way the economy works) and some great work by modders have made the game far more stable.
The game covers the Victorian and Edwardian eras, beginning a year before Victoria took the throne and ending shortly before the death of George V. As it displays the entire globe, it also covers such periods as The American Civil War, World War I, Imperial Germany, the Meiji Restoration, and The Roaring '20s. Since an important part of the game is European Imperialism, Darkest Africa comes into play at times.
The game is (in)famous for being almost incomprehensible to newbies, due to the vast array of interlocking factors, especially in politics and economy and how those two affect each other. The effect of these is often to create a rather fascinating effect where as an autocracy you are desperately trying to keep popular support from overwhelming you while a democracy has to take it relatively easy to avoid reactionary or dictatorial insurrections.
A sequel to the original game, titled Victoria 2, was released on August 13th, 2010, turning this Paradox title into a new series. Two major expansion packs have been released:
On February 2nd, 2012, an Expansion Pack called A House Divided was released. Ostensibly focused on The American Civil War, it added a 1861 start date and made the Confederacy less doomed. Additionally, many new mechanics were added, such as new ways to influence other nations and generate Casus Belli, a system of political movements and repression, new map modes and interface improvements, and most importantly, this expansion recolored Prussia from a sickly yellow to the proper Prussian blue.
On April 16th, 2013 a second Expansion Pack was released, titled Heart of Darkness. It overhauled the colonization system, expanded naval combat, balanced the land combat, made twinges to the industry system, and added a more in-depth diplomacy system for Great Powers. Specifically, "crises" can now develop in high-tension areas (such as Greece demanding land from the Ottoman Empire), prompting all Great Powers to pick a side to support, or stand aside. These situations can escalate until one side backs down, or a Great War is triggered between both sides.
Development on Victoria 2 ceased with patch 3.04 in January 2016, without the release of a proper expansion pack covering the Great War in more detail. The reputation of Victoria for being the most complicated and least accessible series produced by a developer generally known for complex and inaccessible games kept the announcement of a third game in the series at bay for several years, but in May 2021 Victoria 3 was formally announced at PDXCon Remixed with Martin Anward, previously the lead developer of Stellarisnote who added several gameplay elements very conspicuously reminiscent of Victoria to that game and who made a great show of departing to head a personal dream project which many fans (correctly) suspected to be this, leading development. Victoria 3 was released on October 25, 2022.
---
The games provide examples of:
---