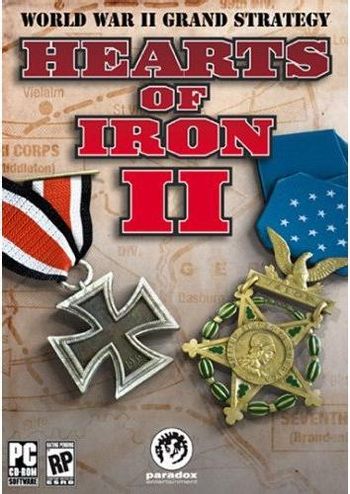 A series of World War II Grand Strategy Simulation Games by Paradox Interactive. The games allow players to take the role of virtually any country on Earth as of the time at the beginning of the games' various scenarios.
The series currently consists of :
Hearts of Iron (2002)
Hearts of Iron II (2005)

Has two expansions: Doomsday and Armageddon
As well as two official updated version/add-ons: Arsenal of Democracy, and Iron Cross
Another update which includes World War I has been released: Darkest Hour

Hearts of Iron III (2009)

Has received four download-only expansions: Semper Fi, Dies Irae: Gotterdammerung (a Germany-focused mod for Semper Fi), For the Motherland (which breaks compatibility with DI:G), and Their Finest Hour.

Hearts of Iron IV, released on 6 June 2016. It currently has 9 major expansions.

Poland: United and Ready (6 June 2016), a free DLC pack available on launch day that includes a new focus tree for Poland.
Together for Victory (15 December 2016), the Torch update, which adds new focus trees for the Commonwealth nations (Canada, Australia, New Zealand, South Africa, and the British Raj). Also adds a new system for puppet nations.
Death or Dishonor (14 June 2017), the Oak update, which adds new focus trees for many of the Balkan nations (Czechoslovakia, Hungary, Romania, and Yugoslavia). Also adds new diplomatic options for fascist countries and new equipment production options.
Waking the Tiger (8 March 2018), the Cornflakes update, which adds/revises focuses trees for Germany, China, and Japan, including the various Chinese warlords and Manchukuo. Also adds new General abilities to add more flexibility to combat.
Man the Guns (28 February 2019), the Ironclad, Hydra, and Fork updates, which adds/revises focuses trees for the United States, the United Kingdom, Mexico, and the Netherlands. Also revises naval combat and the Ship Designer.
La Résistance (25 February 2020), the Husky update, which adds/revises focuses trees for Spain (including every faction in the Spanish Civil War), France (including Free France and Vichy France), and Portugal. Also adds a brand new system of espionage to uncover enemy intel.
Battle for the Bosporus (15 October 2020), the Collie update, which adds new focus trees for the remaining Balkan nations other than Albania (Bulgaria, Greece, and Turkey).
No Step Back (23 November 2021), the Barbarossa update, which adds/revises focus trees for the USSR, Poland, Estonia, Latvia, and Lithuania. Also completely overhauls the logistics system, and adds a new Tank Designer
By Blood Alone (27 September 2022), the Avalanche update, which adds/revises focus trees for Italy, Ethiopia, and Switzerland. Also overhauls the peace deal system and revises the Ship Designer (again), while adding a new Plane Designer. With this update, every nation with a focus tree at launch will have gained reworked content.

Hearts of Iron: The Card Game (2011) which uses the series name and is based on World War II but has little else in common
East Vs. West, a planned spin-off set during the Cold War, which was canceled.
The games have a large modding scene actively encouraged by the developers; some of the more prominent of those can be found here.
---
This video game series provides examples of:
---