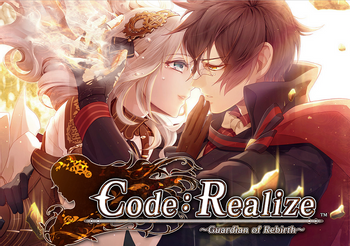 On a train with an unknown destination, a girl travels, not knowing where her path will take her.
In an abandoned mansion in the countryside outside London, a lonely young woman lives in isolation, faithfully keeping the promise she made to her father to remain out of sight and have no contact with anyone. Her body and blood carry a deadly poison which melts anything she touches: she is a monster.
When the Royal Guard of Victoria's Britain break into the mansion to capture her, however, the girl finds herself stolen away from them by the chivalrous thief Arsène Lupin. With no memory of her life before two years ago, she joins Lupin and his friends in their quest to find her missing father, hoping that he will provide her with answers about her mysterious condition.
Code:Realize ~Guardian of Rebirth~ (original subtitle Sousei no Himegimi, lit. Princess of Genesis) is a Visual Novel by Idea Factory and Design Factory, released in Japan in November 2014 and localized in English by Aksys Games in 2015. It is set in a Steampunk version of nineteenth-century Britain and features an assortment of characters from classic period science fiction. A planned anime adaptation was announced in late 2015 and aired during the fall 2017 anime season. Funimation's Simuldub premiered on October 24th, 2017. Watch it here
.
The game was followed by a fandisc released in 2016 under the title of Code:Realize ~Shukufuku no Mirai~ (lit. Future's Blessings). 2016 also saw to a five disc Image Song series of the five main love interests, with drama segments coming with them. In 2017, the original VN and the fandisk were compiled into a PlayStation 4 port titled Code:Realize ~Saikō no Hanataba~ (lit. Rainbow-Colored Bouquet). The fandisk and the PS4 compilation were released in North America as Future Blessings and Bouquet of Rainbows in 2018.
Also, despite the similar naming convention, it is not a part of the Science Adventure Series.
The visual novel contains examples of the following tropes:
---