Tropes related to the characters of Code:Realize. Beware of unmarked spoilers!
open/close all folders
Main Characters
Cardia Beckford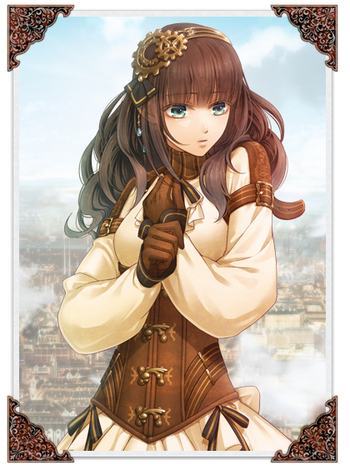 The protagonist and main viewpoint character of the story, Cardia is a young girl whose body contains a deadly poison which will melt anything she touches. She initially lives in isolation in the Welsh countryside, knowing only that her father has instructed her not to leave the house or have any contact with other people, because she is a monster.
---
Arsène Lupin
A 24-year-old self-proclaimed gentleman thief. He "steals" Cardia from the mansion and decides to cooperate with her in order to free her from her poison while investigating a series of terrorist atacks.
---
Impey Barbicane
---
Victor Frankenstein
---
Saint-Germain
---
Abraham Van Helsing
---
British Empire
Finis
VA:
Yūki Kaji
(Japanese), Justin Briner (English)
---
Jimmy A. Aleister
---
Queen Alexandrina Victoria
---
Captain Rempart Leonhardt
---
Idea
Omnibus
VA: Michiru Wada (Japanese), Linda Young (English)
---
Assailant
---
Others
Herlock Sholmès
---
Delacroix II
---
Nemo
---
Isaac Beckford
VA: Daichi Endo (Japanese), Greg Dulcie (English)
---
Introduced in Future Blessings
Shirley Gordon
VA: Haruka Yamazaki
---
Darius Gordon
VA: Takaya Hashi
---
Avido Crudele
VA: Konishi Katsuyuki
---
John H. Watson
VA: Kosuke Toriumi
---
Hansel Hexenhaus
VA: Nobuhiko Okamoto
---
Introduced in Wintertide Miracles
Cantarella
VA: Mamiko Noto
---
Miles Strand
VA: Keiji Fujiwara
---
Aiguille
VA: Noriaki Sugiyama
---
---