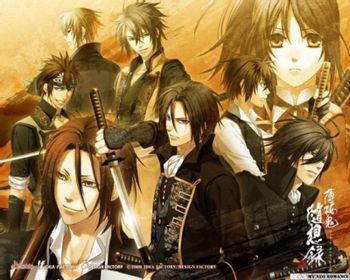 "At the end of an era, the men of the Shinsengumi struggle to uphold the samurai ideal. When a young girl is thrust into their midst, she finds herself irrevocably tied to their tragic fate."
In Kyoto, Japan, near the end of the Edo period, a young boy is being chased through the streets at night by a pair of revolutionaries loyal to the Emperor. Hiding in an alley, the boy is horrified to witness his pursuers' brutal murder at the hands of demonic looking men with glowing red eyes, who laugh maniacally as they hack their victims to pieces. When the fiends turn their attention to the boy, his life is only spared by the timely appearance of two samurai belonging to a group of powerful warriors loyal to the Shogun, known as The Shinsengumi. Unsure just where the boy's loyalties lie, the Shinsengumi take him into custody and return him to their headquarters.
The next day, they are "shocked" to discover that the "boy" being held prisoner is, in fact, a girl named Chizuru Yukimura. Chizuru came to Kyoto in search of her missing father, an accomplished doctor of western medicine who she suddenly lost contact with several months ago. When the Shinsengumi reveal that they too have been in search of Dr. Yukimura in relation to the strange attacks that have been plaguing the city, they allow Chizuru to remain under their care and assist with the search. Agreeing to continue living as a boy so as not to distract the men who serve her new benefactors, Chizuru quickly becomes acclimated to their lifestyle and grows to genuinely care for each of them.
Her life soon becomes anything but peaceful, as the Shinsengumi's enemies seek to overthrow the Shogun and those loyal to him at any cost. At the same time, both the numbers and ferocity of the crazed men that Chizuru's protectors cryptically refer to as "failed soldiers" continue to increase. In the midst of one of the most chaotic eras in Kyoto's history, Chizuru grows determined to do everything she can to protect the lives of her new comrades.
Hakuōki (often romanized as Hakuouki or Hakuoki) is a popular video game franchise developed by Otomate, Idea Factory, and originally released in Japan in 2008. The series comprises eight different games: two main titles and a fan-disc first released on the PlayStation 2, two spinoffs, and three handheld gaiden games. Most of the games have been ported to multiple platforms (namely: PlayStation Portable, PlayStation 3, Nintendo DS and Nintendo 3DS).
The visual novels have been adapted into an anime series by Studio DEEN and licensed for release in English by Sentai Filmworks in American and Canada, MVM Entertainment
in the UK and Hanabee Entertainment in Australia and New Zealand.
2021 saw to the announcement of a ten-episode Live Action television series on Japan's WOWOW Prime streaming service, with Tsubasa Sakiyama as Hijikata.
The Games
Hakuōki ~Shinsengumi Kitan~ (2008): Where it all began; a historical visual novel with some romance game elements.
Hakuōki Zuisōroku (2009): A collection of side-stories which take place during the events of Shinsengumi Kitan. A visual novel with romance game elements.
Hakuōki Junsōroku (2010): A port/compilation of Shinsengumi Kitan and Zuisōroku for Playstation 3.

Hakuoki: Stories of the Shinsengumi (2014): The Aksys English-language localization.

Hakuōki Yūgiroku (2010): A collection of mini-games featuring the cast of Shinsengumi Kitan.
Hakuōki Reimeiroku (2010): The second of the main titles; a historical visual novel and the prequel to Shinsengumi Kitan.
Hakuōki Bakumatsu Musōroku (2012): A hack-and-slash game featuring the cast of Shinsengumi Kitan.

Hakuoki: Warriors of the Shinsengumi (2013) : The North American localization by Aksys Games.

Hakuōki Yūgiroku II: Matsuri Hayashi to Taishitachi (2012)
Toki no Kizuna ~Sekigahara Kitan~ (2012): A prequel Visual Novel set in the Sengoku period. Although it does not share the Hakuōki title, it takes place in the same world, focusing on the demon involvement in the Battle of Sekigahara which Sen and Amagiri mention during Shinsengumi Kitan, and featuring in its main cast ancestors of several of the original game's demon characters.

Shall We Date? Demon's Bond (2015): An English-language localization of Toki no Kizuna, released under NTT Solmare's "Shall We Date?" banner of iOS and Android app romance games.

Toki no Kizuna Hanayuitsuzuri (2013): A sequel/side-story to the first Sekigahara Kitan.
Urakata Hakuōki (2013): A spinoff Visual Novel described as "an 'if' story of Hakuōki," featuring main characters from the opposing side of the original game's conflict.

Urakata Hakuōki ~Akatsuki no Shirabe~ (2014): The fandisk of Urakata Hakuōki.

Hakuouki SSL ~Sweet School Life~ (2014): Another spinoff visual novel set in an Alternate Universe, with Chizuru and the Shinsengumi attending a modern high school. Playstation Vita exclusive.
Hakuouki Shinkai: An Updated Re-release of the original Shinsengumi Kitan for Playstation Vita, incorporating the Zuisoroku fandisc and some additional new content, including routes for former supporting characters Sanan, Yamazaki and Nagakura and three new orignal character routes. Released in two episodes: Kaze no Shou, covering from Chizuru's arrival to Kyoto to the Shinsengumi's leave for Edo, and Hana no Shou, covering the rest of the story. Licensed in the West for PSV and Steam under the names Kyoto Winds and Edo Blossoms respectively.
Hakuōki: Tsukikage no Shou (2019): A fandisc for Shinkai, released on the Nintendo Switch in the form of a visual novel. It adds new moments for the past (in the form of Chizuru reminiscing) and the Good Endings. It covers Hijikata, Sennan, Kazama, Yamazaki, Okita, and Iba; a second planned fandisc for Saito, Heisuke, Harada, Nagakura, Souma, and Sakamoto was released in 2020.
The Anime
Hakuōki Shinsengumi Kitan (April 2010 - June 2010)

Hakuoki ~Demon of the Fleeting Blossom~ (September 2012)

Hakuōki Hekketsuroku (October 2010 - December 2010)

Hakuoki ~Demon of the Fleeting Blossom~: Record of the Jade Blood (December 2012)

Hakuōki Sekkaroku (August 2011 - November 2011): A set of OVAs loosely based on Hakuouki Zuisouroku.

Hakuoki: A Memory of Snow Flowers (March 2013)

Hakuōki Reimeiroku (July 2012 - September 2012)

Hakuoki: Dawn of the Shinsengumi (October 2013)

Hakuōki Dai-isshō Kyoto Ranbu: The first of a two-part feature film adaptation, which premiered in theaters in Japan on August 24 2013.

Hakuoki ~Demon of the Fleeting Blossom~: Wild Dance of Kyoto (June 2016)

Hakuōki Dai-nishō Shikon Soukyuu: The second of a two-part feature film adaptation, which premiered in theaters in Japan on March 8 2014.

Hakuoki ~Demon of the Fleeting Blossom~: Warrior Spirit of the Blue Sky (August 2016)

Hakuōki ~Otogisōshi~ (April - June 2016): A gag series of 5-minute shorts based on the style of Yūgiroku.
---
This series contains examples of:
---