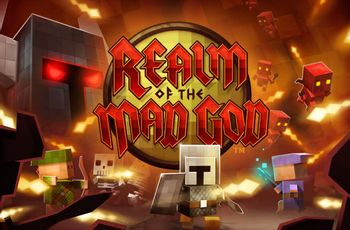 The
Mad God
Oryx
has transported you to his realm as food for his vile minions. Will you proceed quietly to your fate or fight back?
Realm of the Mad God is a free-to-play MMORPG which can be found here
, as well as on Kongregate
and Steam. Gameplay takes cues from both the Roguelike and Bullet Hell genres, with Permadeath in effect for everyone. The game is small and embedded on that page, so you can play right away unless you don't have Flash installed.
When DECA studios took over publishing, a Steam version was released, which runs as an application and thus does not need the now defunct Flash. A Unity port, titled Realm of the Mad God: Exalt, entered its open beta phase on April 15, 2020, and reached its official release on July 22, 2020.
Not to be confused with the web series Mad God.
---
This game provides examples of:
---