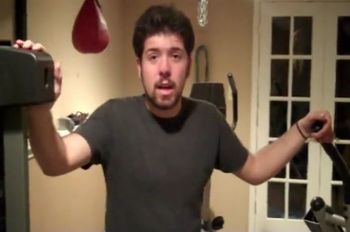 What's up, Hybrids?
A series of Youtube videos based on The Slender Man Mythos. Three guys - Vince, Evan and Jeff - set up a fitness and exercise video-blog, in which they discuss the best ways to exercise, the best things to eat and the best ways to defend yourself from anyone who attacks you. Vince and Evan do the talking, Jeff's their cameraman. But while they're filming, there seems to be a weird gentleman, a bit on the tall side—and as events escalate, a young Princeton student finds herself swept up into their situation as well...
Anyone new to EverymanHYBRID should use this timeline
to guide them through the story, since the full story is spread across two YouTube channels, two Twitter feeds, Twitpic pictures, some archived live webcasts, a blog, a forum, and even a few YouTube posts on unrelated channels. And take a look at the game's wiki
, which has useful things like transcripts of the videos. In addition there is a fan-made compilation
and a special edition
, as well as an extremely in-depth analysis and explanation of the series
.
After almost nine years, the series concluded at the stroke of midnight* at least, if your timezone is EST on January 1st, 2019 with its final video, "Introductions
".
If you want to do an Archive Binge without any guidance:
Beware! There may be unmarked spoilers for the series below!
---
This series provides examples of:
---
Your go-to source for the happy & healthy lifestyle on a budget!