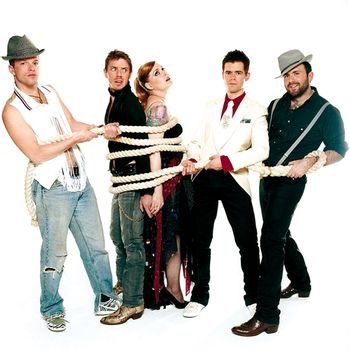 "When you're walkin' down the street and the man tries to get your business,
And the people that you meet want to open you up like Christmas,
You gotta wrap your fuzzy with a big red bow,
Ain't no sum bitch gonna treat me like a ho,
I'm a classy honey kissy huggy lovey dovey ghetto princess.
"
"Filthy Gorgeous"
"Spawned by the scuzzy, gay nightlife scene of New York", Scissor Sisters crashed onto the music scene in the mid-'00s. They became one of the most popular pop acts of the decade, especially in the UK. Their self-titled album was (as of 2006) the 10th biggest-selling album of the 21st century, making them stick out like a sore thumb among other (mainstream) artists who sold similar numbers. Celeb fans include Lady Gaga, Thom Yorke, Josh Homme* He's also friends with the lead singer, Elton John, David Gilmour, Roger Daltrey and Pete Townshend.note And The Master.
The band's name comes from a popular lesbian sex act. They are known for their sexually-charged lyrics and campy performances, many of which have Jake Shears performing in revealing clothes (if any at all).
The band have been on indefinite hiatus since 2012, save the charity single "SWERLK" in 2017. Jake Shears released a self titled solo album in 2018, shortly before appearing at the lead in the Broadway adaptation of Kinky Boots.
---
Members:
Jake Shears – vocals, piano, guitar
Babydaddy – bass guitar, keyboards, vocals, rhythm
Ana Matronic – vocals, "Mistress of Ceremonies", percussion, keyboards
Del Marquis – lead, bass guitar
Randy Real – drums, electronic drums, percussion
Paddy Boom – drums, electronic drums, percussion (former member)
The only member confirmed to be straight was Paddy Boom. Randy Real's (Paddy's replacement) sexuality has yet to be disclosed.
---
Discography:
---
Tropes related to this band:
---