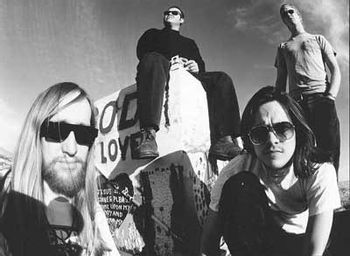 The Stoner Rock band.
What, you want more than that? OK. Kyuss were a highly influential American stoner/desert rock band from Palm Desert, California. They were the pioneers of their genre, which is vaguely a subgenre of Doom Metal but often has very little to do with doom. Its characteristics include heavily detuned guitars, low-end-heavy sound (Josh Homme would plug his guitar into a bass amp for this very reason), massive Black Sabbath influence, hallucinogenic themes and an overall insanely deep and heavy sound.
However, they didn't have nearly as much commercial success or recognition as Queens of the Stone Age, a band you've probably heard of that is fronted by Josh Homme, former guitarist for Kyuss.
They formed in 1987 as Katzenjammer, then later changed their name to Sons of Kyuss in 1989 and released an EP under that name in 1990, before shortening their name to "Kyuss" in 1991 (Kyuss is an evil demigod of worms and corruption
from the Dungeons & Dragons game, and Son of Kyuss was an undead monster
described in the 1st Edition D&D Fiend Folio). Over the next few years, the band released four full-length albums before splitting up in 1995. Their only constant members were vocalist John Garcia (known for his very recognisable voice, which is often said to be synonymous with the genre) and guitarist Josh Homme, who you already know of.
Former members:
John Garcia, vocals (1987-1995)
Josh Homme, guitar (1987-1995)
Nick Oliveri, guitar (1987-1988), bass (1991-1992) [he has also been in Queens of the Stone Age; he's the shirtless bald guy in their video for "No One Knows" and the shirtless long-haired dude in the one for Kyuss' "Thong Song"]
Chris Cockrell, bass (1987-1991)
Brant Bjork, drums (1987-1994)
Scott Reeder, bass (1992-1995)
Alfredo Hernández, drums (1994-1995)
Discography (as Kyuss):
Wretch, 1991
Blues for the Red Sun, 1992
Sky Valley (commonly known as Welcome to Sky Valley), 1994
...And the Circus Leaves Town, 1995
---
Tropes that apply to Kyuss:
---