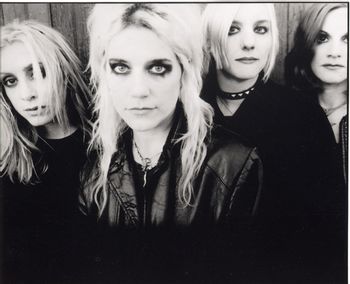 L7 are an all-female Grunge/Punk Rock/Alternative Metal band from Los Angeles, active from 1985 to 2000. They regrouped in 2014. Its members are as follows:
Donita Sparks - guitar, vocals
Suzi Gardner - guitar, vocals
Jennifer Finch - bass, vocals (1987-1996)
Gail Greenwood - bass, vocals (1996-1999)
Janis Tanaka - bass guitar (1999-2000)
Demetra "Dee" Plakas - drums, vocals (1988-2000)
The band was formed by Donita Sparks and Suzi Gardner, the latter having already been quite known in the Alternative Rock scene for performing vocals on "Slip It In" by Black Flag. Their name derives from a fifties slang word for "square".
After recording two albums that showcased their punk-grunge-metal sound but didn't really go anywhere, L7 really shot to public attention by organising the first Rock for Choice benefit concert in 1991, which not only attracted support from the Alternative Rock scene (Nirvana, Pearl Jam, Rage Against the Machine, Joan Jett, Bikini Kill and the Red Hot Chili Peppers all played at it), but helped galvanize the Riot Grrrl movement then forming in Washington. While the band did sport an angry, heavy sound and lyrics frequently dealing with criticisms of society, they never self-identified with the Riot Grrrl movement.
On the heels of their newfound attention, L7 signed with major label Slash Records and brought in Record Producer Butch Vig to work on their new album, Bricks Are Heavy. Upon release, Heavy became the band's breakthrough hit and provided them with their Signature Song, "Pretend We're Dead". During the accompanying tour, the band gained some notoriety for their performance at the Reading Festival, when Donita Sparks removed her used tampon on-stage and threw it into the crowd yelling "Eat my used tampon, fuckers!" in protest against the mud being thrown by the crowd (apparently, mud-throwing at Reading was/is a sign of popular approval). The crowd then threw the tampon back on stage at the band.
In 1995, the band played as the supporting band for a version of hide's single "Oblaat." This clip is on Youtube, and occasionally known for inducing Viewer Gender Confusion on a massive scale.
L7 then started changing their sound, removing their punk influences in favour of a straightforward grunge/alt-metal sound. While the first album after this change, Hungry for Stink, did pretty well (one of its songs, "Fuel My Fire", was later covered by The Prodigy), their next two albums performed worse and worse commercially and the band suffered from lineup instability. They have been on what they call an "indefinite hiatus" since 2001 but have, for all intents and purposes, disbanded.
...that is, until late 2014, when rumblings of a reunion proved fruitful and the band reunited with Donita Sparks, Suzi Gardner, Jennifer Finch and Demetra Plakas. They got a Kickstarter page going for an L7 documentary, and quickly booked some 2015 tour dates.
The reunion encouraged the band to work on some new material. A new single, "Burn Baby / Fighting the Crave" premiered in April of 2019, on Record Store Day. 20 years after their last album, they finally released their seventh, Scatter The Rats in May of 2019.
---
Discography:
L7 (1988)
Smell the Magic (1990)
Bricks are Heavy (1992)
Hungry for Stink (1994)
The Beauty Process: Triple Platinum (1997)
Slap-Happy (1999)
Scatter The Rats (2019)
Tropes:
Not My Lucky Day: "Shove" goes like this. Among the rotten things that go wrong are the IRS calling, the landlord not liking the narrator's dog, her father thinking she's amounting to nothing, some guy pinching her ass, the club not paying them for performing, and on top of all that, it's been months since she's been laid. Fittingly, this bitchfest of a song was featured in Tank Girl, where the titular heroine really gets put through the ringer.
Roommate Drama: "Slide" from Bricks Are Heavy is what happens when Suzi Gardner has had more than enough of this trope, and kicks out the roommate in question along with all his stuff. Said roommate is implied to be a freeloading boyfriend (ex-boyfriend, by the end of the song).
---