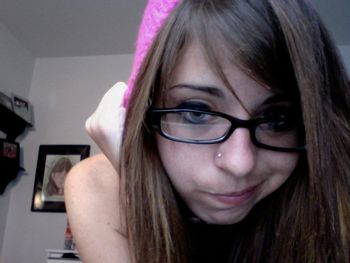 Some officer, or agent, or whatever you want to call the uniform, came by and tried to question me today.
I was "on my way to work" - he said they'll gladly be back soon.
I'm starting to feel sick again. I probably shouldn't have gotten rid of all my medicine.


I shouldn't have made friends.
Can You See the Words is a Tumblr blog. It's initially a weird collection of literature quotes, photographs, and links to songs—all dealing with water, rain, and floods. The writer begins alluding to some kind of problem bothering her and linking to songs about, say, monsters, or being stalked. After this it segues into a somewhat more orthodox personal blog, and the writer is revealed to be a female art student who has suddenly transferred from the Alabama School of Fine Arts to Princeton. Whatever that problem is, it persists, however, and she's been seeing a doctor and taking drugs to deal with "trauma". She refuses to elaborate on her ordeal, insisting it would only make things worse and that she doesn't want any newcomers getting sucked in on her conscience. All the while, readers continue to pry about the paintings visible on her webcam videos—one of a foggy wood, another of a pale-faced man in a tie and shirt...
It eventually comes to light that the writer is connected to another group of people with the same problem—she's friends with the girlfriend of one of the three creators of a YouTube fitness series. And to make matters worse, she's gone missing...
Start reading at the bottom-most and right-most entry of the archive page
(titled "From the Book of Genesis"), and read your way back from that oldest post by going right-to-left, top-to-bottom; trying to read by navigation from post to post will skip a few embedded Tumblr videos and slide shows (stupid, stupid Tumblr). Once you're past the second Tumblr video
and the slide show
(June 23rd and 24th) you can resume using normal navigation without missing any plot-important stuff. And by "normal navigation" we mean "press the 'previous-post' link to look at the next-newest post", because this is Tumblr.
See more words at her Twitter account
and ask if you can help her/yourself/them/us.
Can You See the Words provides examples of:
---