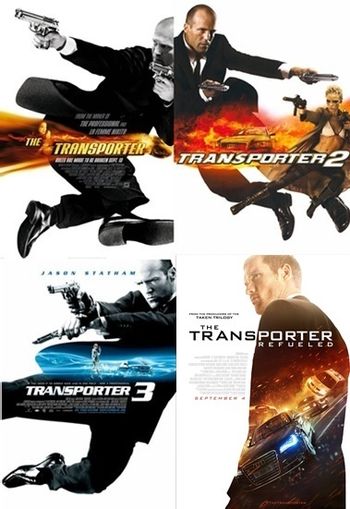 Rule 1: The deal is the deal. The conditions of the deal will not be changed after it has been confirmed.
Rule 2: No names.
Rule 3: Never look in the package.
The Transporter is 2002 action film starring Jason Statham as Frank Martin: a gruff, ex-military man who is in the "transporting" business. Give him the money, the measurements, and the time and he'll get your stuff from A to B. Frank has a set of rules, one of which includes: "Never open the package". However, whilst transporting a large bag from a somewhat unsavory client, Frank discovers an Asian woman named Lai (Shu Qi) stuffed inside his cargo. He is visibly bothered by this and allows her the basic opportunities of food and bathroom time (during which she tries to escape) but ultimately ends up delivering her to the Bad Guys anyway. Because he looked in the package the bad guys try to kill him.
The first film was a stylish (it was written by Luc Besson and produced by the latter's EuropaCorp, after all), fast-paced action romp, directed by Louis Letterier and choreographed by another frequent Jet Li collaborator, Cory Yuen who also served as co-director. The second and third movies dispensed with any pretensions of realism and are considerably more over the top. The series is notable for putting Statham on the map, as well as setting the template for pretty much all of his subsequent roles.
A fourth installment titled The Transporter: Refueled was released on September 4th, 2015, with English rapper/actor Ed Skrein replacing Jason Statham as Frank Martin. There's also a television series.
---
These movies feature examples of:
open/close all folders
The Series as a Whole
The Transporter
Transporter 2
Transporter 3
The Transporter: Refueled
---