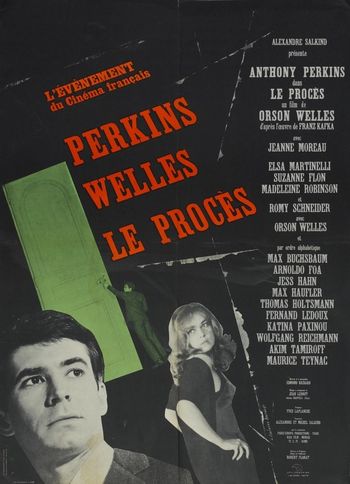 "Before the law, there stands a guard."
The Trial is a 1962 film written and directed by Orson Welles. It is an adaptation of the novel by Franz Kafka.
Josef K. (Anthony Perkins, two years removed from his Star-Making Role in Psycho) is a white-collar worker in some nameless, vaguely European location. He awakes one day to find two ominous police officers—or at least they might be police officers, though they never show ID—in his room. The men, without introducing themselves or explaining why they're present in Josef's apartment, immediately begin interrogating him. Eventually they reveal that he is under arrest, although they do not tell him on what charge. Nor do they take him to any police station, instead allowing him to roam about freely, until one evening they take him from the audience at an opera and drag him to a tribunal.
The hearing ends inconclusively, with Josef unable to even get the judges to explain what is the charge against him. Josef engages the services of Hastler, a lawyer (played by Welles), but Hastler doesn't seem too motivated to do anything on Josef's behalf. Josef's frustration continues to grow as he is unable to do anything to help himself or find out why he has been charged.
The Trial was produced by Alexander Salkind who would later find success with Superman. Most of the film was shot in the real life train station Gare d'Orsay in Paris, which fit the mood well.note The station was used during World War II to deport Jews to the camps Other sequences, especially the exteriors, were shot in Yugoslavia and Croatia. The film was shot by cinematographer Edmond Richard who also worked on Chimes at Midnight (he would later work with Luis Bu˝uel), and the film is highly regarded for its black-and-white imagery. It was Welles's favorite of his own works and is commonly considered the best ever film adaptation of a Franz Kafka work.
Jeanne Moreau plays Miss Burstner, Josef's attractive neighbor.
---
Tropes:
---