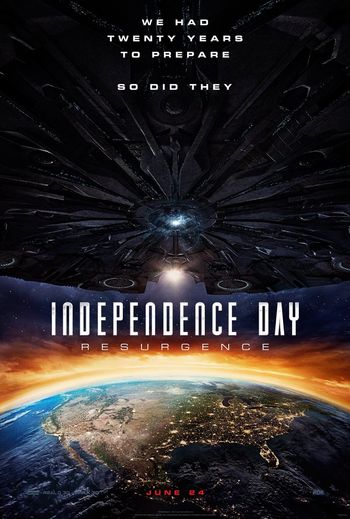 David Levinson: I've had years to get us ready. We never had a chance.
Thomas J. Whitmore: We didn't last time, either. We convinced an entire generation that this was a battle we could win.
Independence Day: Resurgence is the sequel to Independence Day, directed once again by Roland Emmerich.
In 2016, the world reaches the twentieth anniversary of the devastating alien invasion. Humanity has rebuilt its cities and monuments, with (now-former) President Thomas Whitmore (Bill Pullman) having successfully united the post-war world. David Levinson (Jeff Goldblum) has spent the last twenty years running the Earth Space Defense Initiative, which has utilized the alien technology in order to strengthen our planet's defenses. Many humans fear that the aliens will one day return, even as some of them survived in Central Africa and spent the years fighting a guerrilla war against the locals.
Their fears prove all too real: as the mothership was destroyed in 1996, the aliens managed to send out a distress signal, and reinforcements are about to arrive.
Both the heroes of 1996 and their children must now show, once again, that Earth is not for the taking.
US Release was June 24, 2016. Watch the trailer here,
and the Super Bowl TV spot here.
The second trailer is here.
An extended five minute trailer is here.
---
This trope list looks bigger than the last one:
---
"That is definitely...bigger than the last one."