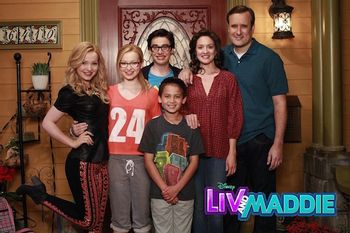 Liv and Maddie is a Disney Channel sitcom. A "special preview" of the pilot episode premiered July 19, 2013 after Teen Beach Movie; it officially premiered in September 15, 2013.
Liv Rooney (Dove Cameron) returns home in Stevens Point, Wisconsin, after four years filming a successful TV show in Hollywood, Sing It Loud! She rejoins her parents, her two brothers and her identical twin sister, Maddie (also played by Dove Cameron), who shaped up to have a very different personality from hers - Maddie is a tomboyish basketball player, while Liv is girly and peppy. Their parents are Karen (Kali Rocha), their school's psychologist (promoted to Vice-Principal in season two), and Pete (Benjamin King), the school's coach. Their brothers are the awkward Joey (Joey Bragg) and the mischievous Parker (Tenzing Norgay Trainornote Yes, he is named after the sherpa who accompanied Edmund Hillary to the top of Mount Everest; he's his grandfather).
The Rooney boys Parker and Joey crossed over into Jessie with Jessie's Aloha Holidays With Parker and Joey which aired for the Christmas Holiday in 2014; the 2015 Halloween Episode "Haunt-A-Rooney" was a Crossover with Best Friends Whenever.
After four seasons, the show aired its Grand Finale on March 24, 2017.
There is a new character page, please show some love, thanks.
---
Tropes-a-Rooney!
---