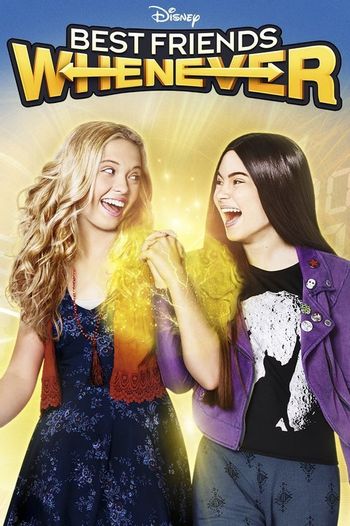 Best Friends Whenever is a Disney Channel Sitcom that premiered in June 2015. It follows best friends Shelby and Cyd, who develop the ability to perform Mental Time Travel after being exposed to a science experiment gone wrong. It stars Lauren Taylor (on the left in the page image) as Shelby and Landry Bender as Cyd, both of whom are Kid Com veterans (the Netflix / AwesomenessTV version of Richie Rich and Crash & Bernstein respectively)note Both had also played the leads in a KidCom pilot for Disney Channel called Fairest of the Mall which wasn't picked up, but the network liked their chemistry so much they had them cast in this show.
The show crossed over with both Liv and Maddie and Girl Meets World for each series' Halloween Episode in October 2015. This inducted the show into the Disney Channel Live-Action Universe.
The show got cancelled after 2 seasons.
---
Best Friends Whenever provides examples of: