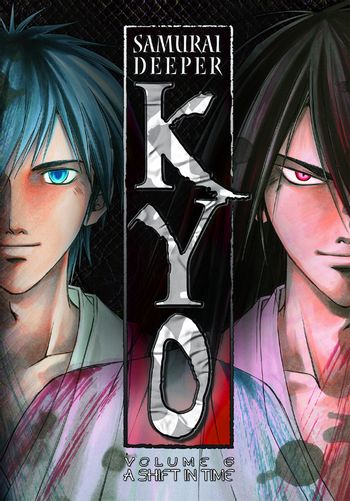 Samurai Deeper Kyo is a thirty-eight volume manga by Akimine Kamijyo about the exploits of Shiina Yuya, a sixteen year old bounty hunter seeking revenge for her older brother's death, who meets Mibu Kyoshiro, a medicine peddler, and Demon Eyes Kyo, who is trapped in Kyoshiro's body.
And then it gets complicated.
Cue an Anachronism Stew, a large cast, loads and loads of Character Development, lots of badassery, several Quirky Miniboss Squads, several BFSes, and what is probably the biggest Bodyguard Crush in history.
The manga was serialized in Weekly Shonen Magazine from October 15th, 1999 to May 20th, 2006. It was adapted to a 26-episode anime that aired in 2002.
Kyo and friends appear in the Massive Multiplayer Crossover game, Sunday VS Magazine: Shuuketsu! Choujou Daikessen.
---
Tropes:
BFS:

Kyo's Tenro is the most prominent.
Sasuke starts out with a Tenro copy, despite being twelve years old and an appropriate height for his age.
Shihoudou's Kusanagi-no-Tsurugi is also really damn big.
Hishigi's Hakuya is massive, and he wields it one-handed.
Blood from the Mouth: Happens a lot. It's occasionally justified when a character is outright stated to have lung damage/internal bleeding, or a cut in the mouth in less deadly situations. It also comes with the Incurable Cough of Death for any Mibu with the Death Disease.
Bodyguard Crush:

It is a very rare occurrence that Kyo's Unstoppable Rage trigger is something other than Yuya being directly threatened. Not that he'll admit he cares.
In the anime, it's strongly implied Saizō has a crush on Yukimura. It's not helped by Yukimura teasing him ("What are you, my wife?" followed by "If it pleases you, my lord". Then there's Saizō blushing and his comment when Yukimura disguises himself as a woman. The kimono "really suits you" indeed.)
While not exactly a bodyguard, Hishigi seems to have one on Fubuki. He throws himself in front of Kyo's most powerful attacks for him, and his only motivation is Fubuki's survival.

Book Ends:

The story begins four years after Kyo's "death" at Sekigahara. Kyoshiro is seen reading his wanted poster, Yuya shows up and meets him for the first time, and Kyo returns in Kyoshiro's body at the end of the first chapter.
The story ends three years after

Kyo's disappearance/possible death with the fall of the Crimson Tower

. Yuya is seen reading his wanted poster,

Kyoshiro shows up to meet her, and Kyo returns in his own body at the end of the final chapter

.
Bunny-Ears Lawyer: Julian and Shihoudou are both extremely competent and extremely weird. Kyo warns Sasuke of the latter's badassitude when Sasuke gets cocky, and admits even he can't handle her in a fight.
Chekhov's Gun: Toward the end of the manga, Yukimura uses the kodachi that Muramasa gave Yuya to defeat Chinmei. Even later, the same kodachi is altered by Julian to become the fourth "key" needed to open the door hiding the Mibu's greatest secret.
Chekhov M.I.A.: We are told that Mibu Kyoichiro (the first of the Crimson Cross Knights) went missing and is probably dead.

He's the Former Crimson King

.
Children Are Innocent: Subverted by so many characters that it's far more remarkable when we do see an innocent child. Flashbacks of Yuya, Tokito, and Shinrei are about the only moments that play it straight. Specific examples of subversion below:

Akira is cheerfully slaughtering away on the battlefield by the time he's ten, and was a jaded street kid before Kyo found him.
The Mibu have no problem with using child soldiers.
As if it needs to be said, Kyo himself. He killed Nobunaga when he was six. Six.
Cloudcuckoolander: Hotaru and Shihodo are the most dramatic examples. Both also have Genius Ditz qualities, being surprisingly insightful and extremely skilled at fighting. The Former Crimson King acts like this in his first appearance and a few others, but it quickly becomes obvious that it's an act.
Combat Commentator: Akira and Bon serve as this at turns for Yuya. Averted in the Akira-Tokito fight, as Yuya isn't around for that one.
Distant Finale: The last chapter is set three years after the one before it.
The theme of the Goyosei is that they embody the five Chinese elements: Shinrei is water, Keikoku (Hotaru) is fire, Chinmei is earth, Saishi is wood, and Taihaku is gold/metal. Taihaku is the only one who does not have powers related to his element.
Shindara is shown to be capable of using several elements, but at a lower power output than specialists.
The Fog of Ages: Chinmei is implied to be at least a couple thousand years old, and can't remember for sure if any of the people he used to love even existed. By the time he shows up in the plot, killing is the only way he can feel anything.
Foreshadowing: Mibu-created Artificial Humans (the forest failures, rare breed, and other genetic experiments) dissolve into nothing when they die and cannot be resurrected.

The same thing happens when the Mibu themselves die. Near the end of the manga, Fubuki reveals that they're artificial constructs, too

.
Muramasa forged four "demonblades" (Tenro, Shibien, Hokurakushimon, and Hokuto Shichisei), incredibly powerful weapons that can be just as dangerous to the wielder as the enemy if not used correctly.
There are four Crimson Cross Knights, and every one of them except for Kyosaburo is shown being incredibly deadly. And Kyosaburo developed the Mumyo Jinpu Ryu, so it can be assumed that he was extremely powerful as well.
Nobunaga's fourth death is the one that puts him down for the remainder of the manga, though who knows if it's permanent.
Gentle Giant: Bontenmaru. Sure, he has the whole "god of war" thing going on, complete with a berserker mode and everything, but he has a soft spot—not like that—for little girls, even ones that punch holes in him and torture him; and Akari reveals that he likes shoujo manga. As for Bontenmaru's reason for taking over the entirety of Japan? He wants to take it over so people can live their lives in peace.
He Who Must Not Be Seen: Sakuya spends 32 volumes hidden behind her bangs, and the manga-ka is fond of "lighting" characters whose faces we aren't to see yet from the back, or putting them in elaborate, face-covering costumes
Jekyll & Hyde: Kyo and Kyoshiro. Subverted in the manga, played straight in the anime. In the Alternate Universe of the anime, Demon Eyes Kyo is actually the Id of Kyoshiro which he split from himself and placed in an Artificial Human body; they later reunite in their original body after Kyoshiro defeats Kyo, but this time as split personalities.
Kick the Dog: Every minor villain that the heroes have to kill off has one of these moments. Every single one.
Single-Stroke Battle: Many of the early ones, when Kyo was more showing off his power than actually being challenged.
Sorting Algorithm of Evil: After arriving in Mibu territory, Kyo starts off fighting mooks and advances through a sea of increasingly-powerful threats until he finally reaches the Former Crimson King.
Tears of Blood: Chinmei and the Former Crimson King. Chinmei claims that this is what happens when you've "run out" of real tears.
Time to Unlock More True Potential: Kyo's training with Muramasa. The Training from Hell is offscreen other than a couple of pages of Kyo looking extremely beat up and Muramasa informing him that he's going to die if he doesn't get stronger.
Took a Level in Badass: Sooooo many characters... but especially Kyo, who starts off as a Memetic Badass that lives up to his legend and ends up being a damn Physical God, taking lots and lots of levels in badass in between.
Trash Talk: ALL OVER THE PLACE. In the manga, insults and taunting easily eat up a third (if not more) of every single duel.
True Companions: The Shiseiten to both Kyo and each other, though they initially claim that they're only together due to a mutual pursuit of strength.
Tsundere: Kyo is heavy on the tsuntsun, regularly calling his Love Interest dog-face and Servant #1, and has a really obnoxious habit of randomly feeling her up, no matter who happens to be watching. But the few moments in which he shows that he cares about her and the way he fights when she's in danger are surprisingly genuine and heartwarming, especially near the end of the manga.
Unequal Pairing: Kyo is twelve years older than Yuya (28 to her 16), attains Physical God levels of power by the end of the manga, and early on in the story he physically intimidates and randomly gropes her on a regular basis. Thankfully, she doesn't start having any kind of feelings for him until he dials back the Jerkass behavior a lot.
Universal-Adaptor Cast: They fit quite easily into their roles in Kamijyo's High School AU, and AU stories are rampant in the fandom.
Unstoppable Rage: Kyo, after Nobunaga almost fatally wounds Yuya. More than a few people were a little freaked out.
---