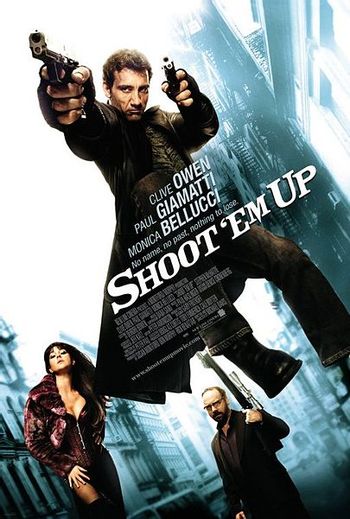 A.K.A Guns: The Movie
I'm a British nanny, and I'm dangerous.
Eighty-six minutes of Clive Owen and Paul Giamatti shooting at each other over a baby.
Oh, you want a bit more than that? All right, we'll give it a shot...
Mr. Smith (Owen) is waiting for a bus, when he decides to follow a gunman, who is following a pregnant woman with murderous intent. He kills the gunman and his fellow Mooks, saving the newborn, but not the mother. The Mooks' boss, Mr. Hertz (Giamatti) continues the attempted infanticide at every stop. Smith enlists a lactating hooker (Monica Bellucci) to take care of the baby, who Mr. Smith names Oliver, while Smith fights Hertz and tries to find out who wants the baby dead and why.
The film exists to show gunfights in every conceivable situation, from high-speed chases to mid-sex to mid-skydiving. The plot is secondary to meta-humor and really over-the-top action sequences. No, we mean really over-the-top. Roger Ebert commented: "I may disapprove of a movie for going too far, and yet have a sneaky regard for a movie that goes much, much farther than merely too far." By one count, Smith kills over one hundred and twenty people over the course of the film.
Fun fact: According to Word of God, the very premise of the movie is inspired by the climax of Hard Boiled, where Chow Yun-fat guns down hordes and hordes of mooks while holding a baby. The filmakers took this concept and expanded it to 86 awesome minutes, which became the movie Shoot'em up.
---
The film provides examples of:
---