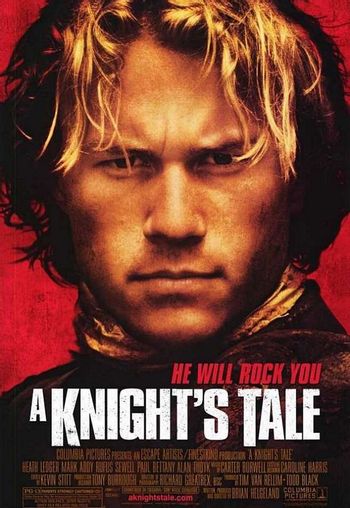 A Knight's Tale is a 2001 Genre-Busting medieval sports romantic comedy film written and directed by Brian Helgeland. It stars Heath Ledger, Rufus Sewell, and Shannyn Sossamon, with a supporting cast including Alan Tudyk, Mark Addy, James Purefoy, Laura Fraser, and Paul Bettany as the author Geoffrey Chaucer.
The film plays like a combination sports movie and romantic comedy, except that the sport is jousting and the setting is The Late Middle Ages (specifically The Hundred Years War). Our hero William is a simple squire who, with the help of some lowborn buddies, attempts to make his mark by posing as a noble knight, becoming Europe's finest jousting sensation and winning the heart of a fair maiden.
The film is notable for its gleeful embrace of Anachronism Stew, featuring 14th-century courtiers dancing to David Bowie and peasants doing the stomp-stomp-clap cadence from "We Will Rock You."
---
This film contains examples of:
---