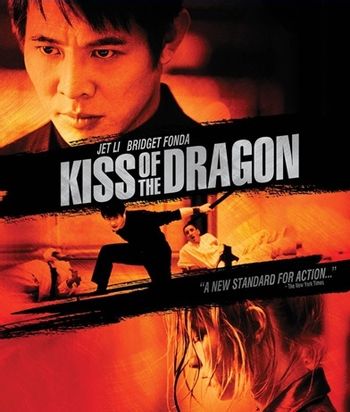 Kiss of the Dragon is a 2001 martial arts action film starring Jet Li, written by Luc Besson and directed by Chris Nahon.
Liu Jian (Li), a Chinese intelligence officer, comes to Paris to help the vice squad apprehend Chinese drug lord Mr. Big (Ric Young) and his unknown French connection. He joins forces with French police official Jean-Pierre Richard (Tchéky Karyo) in order to do it. Alas, it turns out that Richard is Big's connection, and that Richard is planning to murder Big. When Jian discovers, tries and fails to stop this, Richard frames him for the murder. Jian is able to escape with a tape that proves his innocence, but he loses it soon after. Just when it seems he has nowhere to turn, he meets Jessica (Bridget Fonda), a Hooker with a Heart of Gold whom Richard has forced into prostitution and heroin-addiction, and who was present at the site of Big's murder and thus can prove Jian's innocence. Alas, Richard also has Jessica's daughter under his thumb in an orphanage, and she refuses to help until Jian gets her. Jian sets off to do it, evading Richard's mooks and seeking to slay him at the same time.
Li made the film as a result of fans requesting more realistic fight scenes following Romeo Must Die. Consequently, only two scenes required CGI enhancement (the flames from the grenade explosion and the billiard ball after Li's character kicks it) and only one scene involved wire work (Cyril Raffaelli's 1 1/4 somersault, which he could do on his own, but which went too fast for the camera and therefore required wires to slow down).
---
This film provides examples of:
---