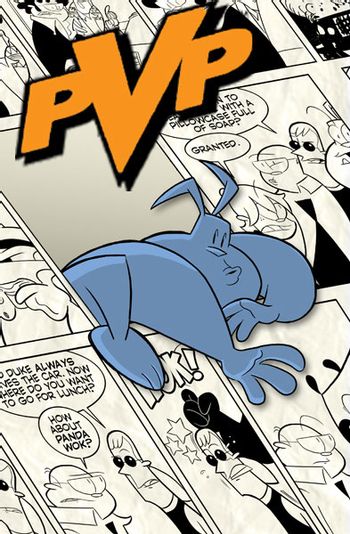 PvP
is a gaming webcomic started in 1998 by cartoonist Scott Kurtz. It takes place around the office of a small magazine production company that produces the gaming magazine "PvP", focusing mostly on the office antics of a straight-laced boss, his snobby best friend, the snob's wife (originally the sole female writer in the company), their bratty sixteen year old intern, a naive, careless troll, and two frat boys. Over time, the cast gained a female counterpart to the intern, and some other characters. It originally started as a pastiche Affectionate Parody of video games and geek culture in general, moving away from that towards just being a slice of life comedy about its characters and an Affectionate Parody of every 80s sitcom ever made.
On May 18, 2020, PvP went through a time skip, soft-branded as "PvP 3.0", and seems ready to double down on the classic office sitcom shenanigans that were the core of PvP's humor for years.
---
Tropes:
Gasshole: Skull, especially early on in the comic, much to Brent's disgust.
Impossible Hourglass Figure:

Many of PvP's women are buxom with slim waists and wide hips, notably Miranda.
The series has gone through Art Evolution over time; the style became softer and more realistic, and the girls lost their impossibly narrow waists and thin necks.

Intercontinuity Crossover: PVP has crossed over with Kurtz's other creations Captain Amazing and Samwise.
Skull and Sonya.
Skull and Val.
Zany Scheme: Referred to as "Wacky Adventure". On one occasion Cole actually vetoed a perfectly good plan to discover the identity of Jade's online romance on the grounds that it wasn't interestingly wacky enough.
---