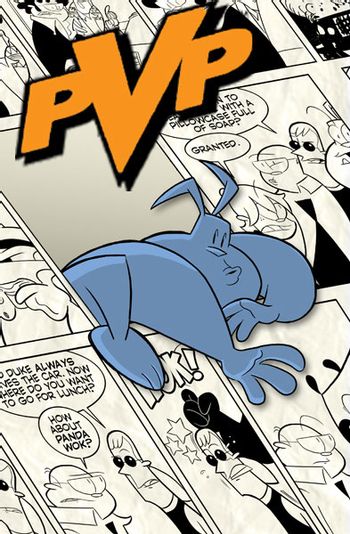 PvP
is a gaming webcomic started in 1998 by cartoonist Scott Kurtz. It takes place around the office of a small magazine production company that produces the gaming magazine "PvP", focusing mostly on the office antics of a straight-laced boss, his snobby best friend, the snob's wife (originally the sole female writer in the company), their bratty sixteen year old intern, a naive, careless troll, and two frat boys. Over time, the cast gained a female counterpart to the intern, and some other characters. It originally started as a pastiche Affectionate Parody of video games and geek culture in general, moving away from that towards just being a slice of life comedy about its characters and an Affectionate Parody of every 80s sitcom ever made.
On May 18, 2020, PvP went through a time skip, soft-branded as "PvP 3.0", ready to double down on the classic office sitcom shenanigans that were the core of PvP's humor for years. From mid June to November 2021, the comic was temporarily replaced with a one called Mort about a son caring for his sick father. PvP returned in December 2021 to the pre-timeskip storyline, back to the present day.
Unfortunately, at least for the purposes of linking to evidence of tropes, in September of 2022
the entire archive of PVP prior to 2021 was put behind a Patreon subscriber-only paywall. Thus rendering virtually all the links in this page into 404 pages, or subscriber only placeholder images. It remains to be seen if this will generate new revenue, or merely annoy fans.
---
Tropes:
Gasshole: Skull, especially early on in the comic, much to Brent's disgust.
Impossible Hourglass Figure:

Many of PvP's women are buxom with slim waists and wide hips, notably Miranda.
The series has gone through Art Evolution over time; the style became softer and more realistic, and the girls lost their impossibly narrow waists and thin necks.

Intercontinuity Crossover: PVP has crossed over with Kurtz's other creations Captain Amazing and Samwise.
Robbie:
I own a couple of adult entertainment companies. They send me one of everything.
** At which point Francis starts making Smut Angels.
Zany Scheme: Referred to as "Wacky Adventure". On one occasion Cole actually vetoed a perfectly good plan to discover the identity of Jade's online romance on the grounds that it wasn't interestingly wacky enough.
---